'Extract' Premiere Benefits Texas Filmmakers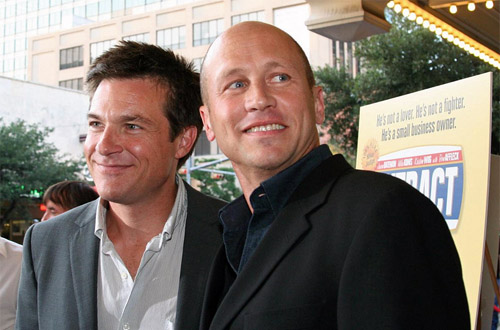 The world premiere of Mike Judge's new film Extract took place on Tuesday night in Austin at the Paramount Theatre, with star Jason Bateman (pictured above with Judge) and others attending. The premiere was a benefit for the Texas Filmmakers' Production Fund. It's been a big week for Austin Film Society (AFS), with the recent announcement as reported by Jette of the TFPF grants awards announcement and now a major premiere benefiting the fund. I spoke with actors from Extract as well as AFS founder and filmmaker Richard Linklater, who was in attendance supporting fellow Austin filmmaker Mike Judge and the TFPF benefit.
Jenn interviewed Mike Judge for Slackerwood earlier that day, so rather than inundate him with questions I did ask him the one question that was in the back of my mind:
I have to ask - was it hard to resist putting a mouse in a bottle, were you tempted a little by Strange Brew?
Mike Judge: I actually had in an early version of the script, there's a sequence in the movie where an accident happens. I had it start with a fly getting into one of the bottles but I took that out. It would have been really difficult and probably expensive. CG flies never look very good, and it was probably not worth it. Now it's more related to a character, one of the employees.
Working the red carpet provides a great opportunity to meet and network with other members of the media industry, and I had the honor of meeting Liz López, who has written for Spanish language newspaper El Mundo since 1998. While waiting for the filmmakers and actors to arrive, we discussed the challenges for Hispanic women in the film industry. With that in mind, I eagerly awaited for the opportunity to speak with Lidia Porto, who plays a secondary character, Gabrielle, a factory worker in Extract. Here's our exchange: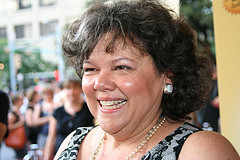 How can more Hispanic woman be empowered to get into film?
Lidia Porto: There's a lot you can do. One thing I usually tell people to do is write, write your own parts, write monologues for yourself, write about your own identity. I always look to John Leguizamo, and I wrote a monologue about myself based on my life in Houston, that was real empowering because people laughed with me, and felt with me, people saw me. Just believe in yourself, believe that you can do this professionally, get representation, do what it takes and keep at it.
Extract is your second film with Mike Judge, with the first being Idiocracy. How did this film experience compare?
Lidia: Working with Beth Grant -- she is such a consumate actress. Working with her made me feel comfortable, and funny. That partnership was the best part about this movie, working with her.
What was it like being the straight woman to Beth?
Lidia: I told her "I'm Robin to your Batman, I'm the sidekick." But she's wonderful, she never made feel like a sidekick, she always made me feel like an equal. There's always got to be two sides to a joke, so if I have to be the straight man so be it. She's fantastic, she makes everything work great.
Next I spoke with local filmmaker Richard Linklater, who spearheaded the early efforts of the Austin Film Society as it became a non-profit educational organization. I was eager to talk with Richard about recent news. Here's what he had to say:
As of yesterday's announcement of the Texas Filmmakers' Production Fund awards for this year, the Austin Film Society fund has given over one million dollars to filmmakers in grants and services. From your vision in 1985, how has it met your expectations?
Richard Linklater: Unbelievable, when something surpasses your biggest dreams for it, it's amazing -- but it's Austin. The Film Society caught on and did so well. That's because a town like Austin supports it. The production fund and the studios -- other towns would have rejected that. Here we have mayors and city council members who get it. Austin is about our creative community. It's a town you can kind of dream and get these things done that you couldn't in other places so that's why we are here.
AFS has accomplished so much in the past year, and even more this month with the fund and several premieres. What do you see for the future?
Richard Linklater: More of the same. It's kind of a crappy time in the industry, so it's a good time to just kind of maintain. We have our ambitions, try to do a DVD label, get films out there, anything that's part of our mission we'll keep chugging away at. We'll probably have another premiere around Thanksgiving. I have a film Me and Orson Welles that'll be out at Thanksgiving. It'll be like my fifteenth premiere here, so I wouldn't miss it.
You can be sure that Slackerwood wouldn't miss it either, so check back for updates on Me and Orson Welles. Slackerwood will also post a review of Extract and Jenn's interview with Judge in time for the film's Sept. 4 release.
[Photo credit: Jette Kernion, part of a full set of red-carpet photos from the evening]