The Alamo Downtown Blog-a-Thon
in
­­­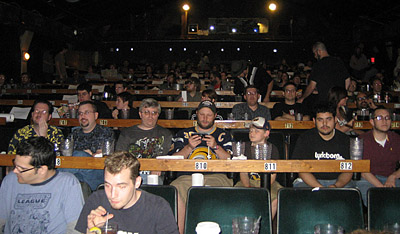 Last updated at 8:00 am CST, July 2, with still more links about the Last Night at Alamo events (after the jump).
Jette Kernion of Slackerwood and Blake Ethridge of Cinema is Dope are hosting the Alamo Downtown Blog-a-Thon.­
Alamo Drafthouse Downtown on Colorado St. will be closing closed its doors after a final triple-feature on June 27. The movie theater will be moving to Sixth Street in the newly renovated Ritz Theater. While we're looking forward to the new digs, we want to remember and celebrate the old Alamo Drafthouse that we've been visiting for the past 10 years.
We're posting your favorite stories, memories, or links to ph­otos from Alamo Downtown. If you have a blog, post an entry about Alamo Downtown to your website today. Send the link to jette [at] celluloideyes [dot] com, or post the link in the comments­ section of this blog entry. (Please make sure the entry isn't password-protected or friends-only, so everyone who visits can read it.) The list of links to participating websites is at the end of this entry, and will be updated periodically today.
If you don't have a blog or website, post your favorite Alamo memory or story in the comments section of this entry. Comments are moderated but I will be reading and approving them all day long. If you have a Flickr account and pictures of Alamo you want to share, you can tag them "alamoblogathon".
News 8 Austin's report on the last night at Alamo included Tim League's reaction to our blog-a-thon.
­
Note: If you have any photos or video from Alamo Drafthouse or Rolling Roadshow that you'd like to share, drop a line to lastnight [at] originalalamo [dot] com. ­Alamo is putting together a time capsule/documentary and is looking for more material to include.
Here are the Alamo stories we've received so far:
Last Night at Alamo Entries
Here are all the links about Last Night at Alamo events that I copied from the Quick Snaps entry, found on the web, or that people have sent me. I thought it would be helpful to put them all in a single section, along with the "Last Night" farewell videos.