Kevin Smith broke my (red carpet) cherry
I've been covering film news for Cinematical for about a year now, and before that I wrote about film on Celluloid Eyes. And in my deep dark past (aka college days), I used to cover local and entertainment news for various publications.
One thing I hadn't ever done was to cover a red carpet event. I didn't know much about the red carpet world, apart from what I occasionally saw if I turned on the Oscars too early. We don't have cable and I rarely watch entertainment news on TV. "Red carpet" didn't seem like something a print reporter would benefit from attending, which is why I turned down a chance to cover a red-carpet event at Fantastic Fest last year for Zathura. (Also, I found out about it 10 minutes beforehand, and had no idea what I'd say to Jon Favreau.)
But Kevin Smith came to town for the Clerks II premiere a couple of weeks ago, and I wanted to cover the event. Natalie Schuessler, the media contact at Austin Film Society (which sponsored the premiere), told me that space was tight for the actual premiere screening, but I could attend a press screening earlier in the week and then participate in the red carpet session with Smith before the premiere. I thought this would be an excellent way to get a taste of the world of red carpet interviews.
I saw Clerks II a few days before the big Austin premiere: you can read my review here. Afterwards, I tried to think of questions to ask Smith on Thursday. I worried the red carpet time would be loud and fast and that I might have to shout questions, so anything complicated was a bad idea.
I asked friends for advice. Their ideas for questions may have been the funniest part of the whole process. The first thing everyone said was to ask "Who are you wearing?" which apparently is the top question asked of celebrities at red carpets. They also suggested questions about Smith's recent anal-fissure complaints, the casting of his wife in Clerks II, how Jason Mewes was to work with in this film, his opinion on day-and-date releases, and whether he prefers cake or pie.
Back in March, Smith was the guest speaker for a UT class I audited. John Pierson interviewed him for awhile, and then Smith fielded questions for an hour or maybe longer. If he thought a question was stupid, he had no qualms about baiting and taunting the questioner. So I was somewhat nervous about asking him questions. I imagined the kinds of responses he might give and it turned me into a big ball of stress. Finally, I decided that since this was my first red-carpet event, I would hang back and take notes/record the other interviewers and responses, and not worry about asking anything unless the mood really struck me. This was a learning experience; no publication was relying on me posting a story about the event afterwards.
I showed up early at the Paramount, wearing my Cinematical t-shirt. I was carrying my subcompact digital camera, a digital audio recorder, and a small notebook ... all of which did not quite fit in my pants pockets. I hadn't wanted to lug a purse around.
Lesson #1: Find a better way to carry everything -- maybe a mini-backpack.
Anyway, here's the Paramount, all decked out for the Austin premiere of Clerks II: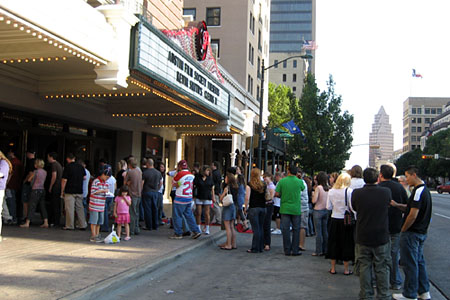 I found Natalie, who was chatting with a group of people who turned out to be from Austin Movie Show. She explained that the press could set up on the right side of the roped-off red carpet area. I also met the PR rep's assistant, who told us that Smith was at his hotel, doing an extra unscheduled interview. After he was done, he'd be driven to the theater. The Austin Movie Show people started to set up their cameras at what I realized later was the prime spot: right by the curb. (They got there early to get an edge on positioning over the local news crews.)
I hadn't quite realized that we were going to be outside in an unshaded area in triple-digit weather. Natalie was smart -- she brought a bottle of nice, cold water.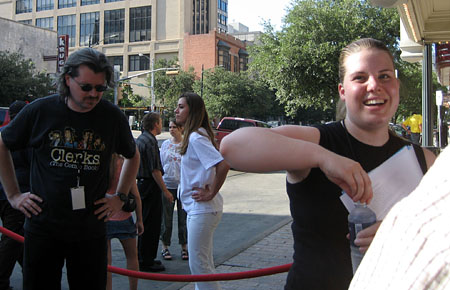 Lesson #2: Wear sunscreen.
Another camera crew or two arrived and I realized it would do me no good to be sandwiched between them, so I moved past the camera crews to an area of the red carpet occupied by still photographers and a couple of people whom I assumed were print reporters. The guy next to me worked for Paste magazine, and talked about how the weather was not quite as bad as it had been for the red carpet event for The Bad News Bears last year. He had an easy-to-carry little notebook with actual questions in it written down for Kevin Smith, although he hadn't brought a camera. I also met someone taking photographs for Austin Film Society. My itty-bitty digital camera looked like a toy next to the professional still and video setups all around me.
It was crowded and hot and the backs of my knees were sweating, which feels really gross ... and then finally a car pulled up to the curb and Kevin Smith stepped out. I tried hard to get a clear shot: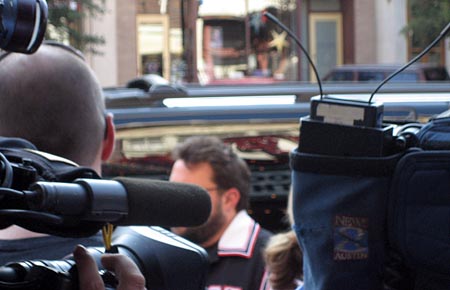 I realized that I was a short person with a small, cheap camera in the middle of a sea of big guys with fancy setups, and wondered if I'd ever get a decent photo. Fortunately, the great thing about digital cameras is that you can keep snapping, and snapping, and snapping. I was happy to get Smith's entire face in focus in a photo, at last:
Smith began to talk with the Austin Movie Show interviewer. I started my digital audio recorder, which was hanging on a cord from my wrist, and realized that I could not hear a damn thing. I could see him through a tangle of camera cords, smoking a cigarette and chatting, but he wasn't being especially loud. Not a word. It was a little frustrating -- for example, what in the world did the News 8 reporter say to incite this expression?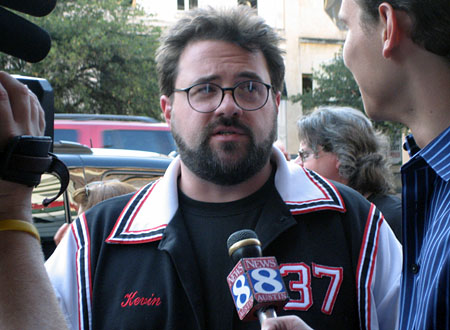 I realized that we would have to wait our turn to capture any audio until Smith walked over to our portion of the red carpet. In the meantime, I took more pictures. It was difficult not just because of the crowds, but because I don't have a wide-angle lens. Every photo was an extreme close-up. I did manage somehow to capture a photo of Smith with John and Janet Pierson in the background. (John Pierson was the producer's rep for Clerks; Smith's company View Askew produced the documentary Reel Paradise about the Piersons' year in Fiji.)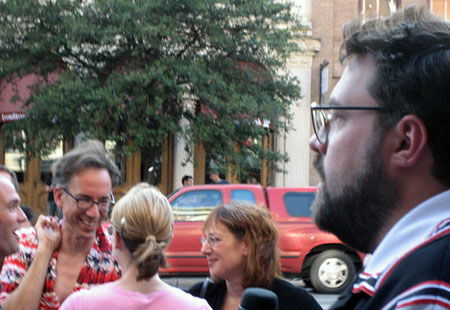 I took the following photo because I wanted a picture with an Austin background that locals would recognize ... but it looks like Smith's about to duck into a phone booth and come out in a caped costume: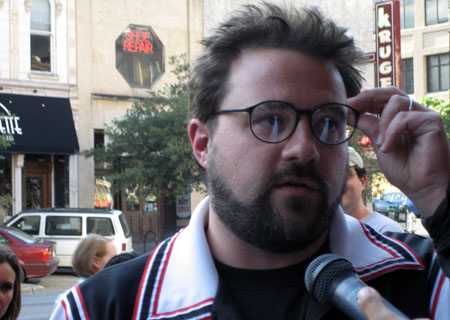 What surprised me most was that Smith was a subdued interview subject on the red carpet. The fanboy persona that was so prominent during the UT class in March, and that we often read about on the Web, was nowhere to be found. This was an earnest, intelligent director calmly promoting his film, although I did hear him answer questions about music and comic books. He didn't harass reporters as he'd done with questioners during the UT Q&A, and he didn't use any inappropriate words for broadcast. Of course this makes sense -- the man is promoting a film in the mainstream media -- but it was a startling change to me.
Finally, Smith finished talking with the TV reporter next to me and thankfully, the Paste reporter was experienced enough in these events to easily call his attention and get him to talk to us. Smith asked us if we minded if he smoked (we didn't), which provoked a discussion about actors smoking in film. The Paste reporter asked him a few other questions, mostly about upcoming films in which Smith has acting roles. I took a deep breath, introduced myself, and the following exchange took place:
Me: The movie reminded me very much of Thirties screwball comedies -- His Girl Friday, if you took out the journalism and put in fast food. Is that intentional?
Smith: I've always been a big fan of those flicks -- I love His Girl Friday, I love Sullivan's Travels. It's tough, you can't make those movies today, because there's a real innocence to them, but I love the patois, I love how fast people talk, and how they just keep it moving along, they don't stop to react to a joke or anything like that. That kind of informs what I do in my own movies.
Me: I did not think I would be describing Clerks II as Hawksian [Howard Hawks, director of His Girl Friday], and yet I'm writing the review now, I'm putting it in there.
Smith: That's very cool.
Paste: Even with all the cussing, there's a sense of innocence in your films.
Smith: Yeah, very much so. You know, I don't ever think people are one thing only... I've known Jason Mewes for 16, 17 years now, a lot of people think he's crazy, fun to be with, whatnot, but there's always hidden depths.
Paste: And now he's working with Paris Hilton?
Smith: Yeah, talk about depth ...
That's right, I may be the only red carpet interviewer ever to invoke His Girl Friday to Kevin Smith. Perhaps it was a refreshing change for him.
After a couple more questions from the Paste reporter, Smith moved on to another group near the Paramount door. I was sorry that I didn't know anyone else at the press gathering well enough to ask them to take my picture interviewing Smith, however briefly. I probably looked sweaty and awful, but I would have liked a photo anyway.
Lesson #3: Either build and strengthen other press contacts, or bring someone else along to the event to get photos from different angles, as well as interview photos.
I wished I could get a photo of Smith in front of the Paramount doors, but I was too close and couldn't move easily. I got the photo, but I'm not far away enough for you to tell that it's the Paramount.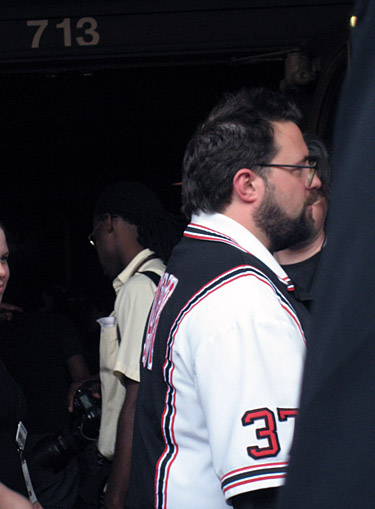 Shortly after talking to me and the Paste reporter, Smith headed into the Paramount for the premiere and the media crowd started to pack up and disperse. I chatted with someone I knew from Austin Movie Show, then crossed the street to get a last photo of the Paramount.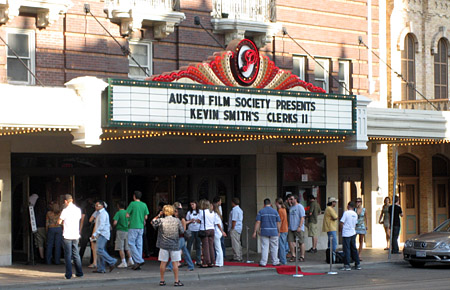 Lesson #4: Bring business cards and hand them out liberally. And make sure to get cards in return. I did actually have my card case with me and I gave one to the PR rep, but I should have given one to the nice guy from Paste and asked for one in return, so I would remember his name now. (I searched the Paste site and it may be Tim Basham, but I'm not sure. Whoever it is, if you're reading this, hi! and thanks! You were awfully helpful.)
After that, I drove home for an anticlimactic evening at home -- making dinner, cleaning the cat box, and doing work while a nearly sold-out theater enjoyed Clerks II and the Q&A afterwards. A friend of mine who attended the premiere told me that the Q&A lasted for nearly two hours, and that Smith was back in full-strength fanboy mode.
If you want to read about the actual premiere and the Q&A afterwards, Ain't It Cool News relates a story about the first questioner, who was in a wheelchair and didn't like certain references to the handicapped in Clerks II. Local freelancer Sean Claes also interviewed Smith and asked him about Austin. Chris from Stomp Tokyo also attended the premiere.
In conclusion, I learned a lot about red-carpet events, at least the ones in Austin. They're a lot sweatier than I anticipated, and a lot more crowded. My digital audio recorder barely picked up my interview with Smith because of the ambient noise. Still, I had a lot of fun, and I'm looking forward to the next red-carpet opportunity, whatever it might be. Fantastic Fest, maybe?
And I never did ask "who" Kevin Smith was wearing. Maybe next time.