2009 in Review: Notable Non-Profit Film Events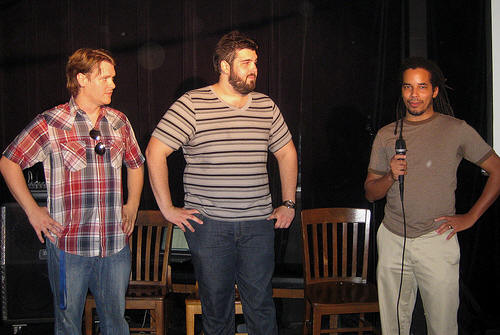 During the 2007 Austin City Limits Music Festival, I had the pleasure of meeting musician Bela Fleck, star of the 2008 documentary Throw Down Your Heart. He asked me, "Tell me what you like about Austin, and don't say the music -- everyone says that!" Without hesitation, I responded, "The sense of community, whether it's music, film or volunteering."
Several non-profit film-related events of 2009 represented that special quality of Austin, with local theaters and filmmakers showing their support of non-profits in our community. One highlight was the newest event and local non-profit, Lights. Camera. Help.
From July 31 to August 2, Lights. Camera. Help. hosted the first of what it plans to be an annual film festival of non-profit and cause-driven films. Over 140 documentaries, PSAs and short films were submitted, with 20 finalists selected for screening. At the closing party, local filmmaker Layton Blaylock took top honors for his film Art from the Streets. The local program Art from the Streets, the subject of this film, received all the proceeds from the festival. This program provides the opportunity for homeless individuals to explore their painting and drawing skills in open studio art classes at the Austin Resource Center for the Homeless (ARCH).
Lights. Camera. Help. is a non-profit organization that is dedicated to encouraging other non-profit and cause-driven organizations to use film and video to tell their stories. LCH will be working towards this mission through education and volunteer match programs, screenings and the annual charity film festival. The goal of the volunteer match program is to connect non-profits in need of films with filmmakers who are willing to donate (or discount) their services. As of January 2010, LCH has applied for 501(c)(3) status, which will broaden their fundraising opportunities.
Other Austin non-profit film-related events in 2009 included:
September - Austin Bat Cave was the charitable recipient of a special screening of Be Here to Love Me, a biographical documentary on the life of famed Austin singer/songwriter Townes Van Zandt. Austin Bat Cave is a writing and tutoring center for kids which connects a diverse population of young writers and learners with adult volunteers.
November - The Coalition of Texans with Disabilities hosted their annual Cinema Touching Disability Film Festival which was designed to raise awareness about disabilities as represented in film. Local documentary Eyes of Me, which I reviewed, was a feature film of the festival and will be broadcast on PBS in March 2010 as part of PBS Independent Lens.
Also in November, local theaters supported local youth organization Urban Roots with special events during Eat Local Week. The Paramount featured a special screening of Fresh and the Alamo Drafthouse hosted a Julia & Julia Benefeast. Urban Roots is a youth development program that uses sustainable agriculture as means to effect lasting change for youth participants, and to nourish East Austin residents who currently have limited access to healthy foods.
December - Rounding out the year, the Texas Motion Picture Alliance (TXMPA) hosted the second annual Spaghetti Western. As a volunteer for the 2008 event, I was quite impressed at the wonderful experience at Star Hill Ranch but was sad to miss the 2009 event due to schedule conflict. TXMPA reported that over $10,000 was raised at the special event -- great news for this organization which is dedicated to bringing more business to Texas film industry.
In addition, Austin Film Society hosted fundraisers throughout the year -- premiere screenings, Texas Film Hall of Fame Awards, and others -- for its Texas Filmmakers Production Fund and for other education and outreach programs.
[Photo Credit: Lights. Camera. Help. Founders David J. Neff, Aaron Bramley, and Rich Vazquez by Debbie Cerda]