Review: The Eyes of Me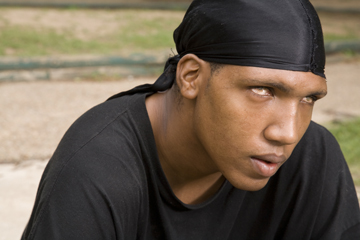 The documentary The Eyes of Me, which screened at the Cinema Touching Disability Festival earlier this month, presents an extraordinary look at four blind teenagers living in Austin. Their stories unfold over the course of a year at the Texas School for the Blind and Visually Impaired (TSBVI), a public residential high school. Nationally, over 9,000 students attend similar residential schools. Director Keith Maitland worked closely with the film's subjects to produce sequences of stylized rotoscopic animation to complement the film's observational aesthetic. Created from over 250 hours of footage, this documentary captures a visually engaging and textured portrait of its characters' lives.

"How do you see yourself, when you can't see at all?" The stories of the film's central characters offer a perspective on growing up, fitting in, and preparing for the future. Forced to confront the world without sight, the high-school students share their thoughts, perceptions and inner-visions of the outer world.
The Eyes of Me follows their high-school experiences of dating, academic responsibilities, fitting in, family issues and preparing for college over the course of one dynamic year. High school senior Chas wants greater independence, and therefore he leaves the school's dorms to live independently in his own apartment. His greatest passion is creating hip-hop music. When Chas drops out of school halfway through his senior year, his resolve to chart his own path is tested.
At her old school, 15-year-old Denise's classmates made fun of her cane and called her names. She isolated herself and struggled with bouts of depression. At TSBVI, she's living away from her supportive family and able to act in a play for the first time. Freshman Isaac has been blind less than a year. When his retina detached after an injury, his uninsured grandparents could not afford emergency eye surgery. The freshman left his rural home in Paris, Texas to attend school at TSBVI. Meagan focuses on her future and prepares for graduation as the class valedictorian. She'll be attending community college in the fall and moving out into the sighted world. "People have actually come up to me and said, 'Hey, do you want to feel my face to see what I look like?' It's like, 'Hello, personal space.' "
In The Eyes of Me, Director/editor Maitland takes a cinematic approach to observational footage, yielding a style that is both dramatic and organic. He effectively allows the stories of each character to develop and play out naturally. This ensemble documentary offers an unprecedented look inside a marginalized community as it captures the stories of these four teenagers. The portrayal of their experiences challenges the perceptions of viewers. On a personal note, I've known one of the secondary characters John Nolan -- who won the high school award in the 2007 Cinema Touching Disability Film Competition -- through his participation in the SCARE for A CURE annual haunt. However I realized after watching this film that I could make a better effort to interact with the TSBVI students I've met to lessen the gap and better understand their lives.
The Eyes of Me premiered at the 2009 South by Southwest Film Festival, and has played several festivals around the nation including the AFI Dallas Film Festival. The documentary will premiere on PBS as a part of the award-winning documentary series Independent Lens in spring 2010. In addition to the national television broadcast, PBS and Independent Lens will present The Eyes of Me as a part of their Community Cinema program, scheduling semi-theatrical screenings of the film in 50 communities nationwide.
Austin Connections: Austin-based artists Jason Archer and Paul Beck, who lea the animation team on Richard Linklater's A Scanner Darkly, created the distinctive rotoscopic animation for The Eyes of Me, their first nonfiction work. With Chas's own music production playing an important role in the story of the film, Maitland was eager to include some of Chas's music in film, credited under his performing name One2Cee. The soundtrack features Austin bands American Analog Set, Sunset (Bill Baird – formerly of Sound Team), Golden Bear, Brazos, Hotel Hotel, and Sparrowhouse (Jared Van Fleet of Voxtrot).
Notable Austin Locations: Primary location is the Texas School for the Blind and Visually Impaired (TSBVI) and its surrounding neighborhoods near 45th Street between Guadalupe and Lamar.