Lights. Camera. Help. Fest Announces Winners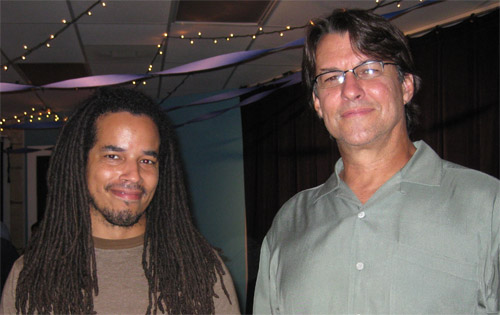 The first annual Lights. Camera. Help. Film Festival featuring non-profit and cause-related films was held this weekend, along with a wrap party Sunday night at the New Movement Theatre where the winning submission was announced.
Congratulations goes out to Layton Blaylock for his winning submission Art from the Streets, a feature-length documentary about a program for homeless artists, also called Art From the Streets. This program was established in Austin in 1991 with the goal of providing a safe and nurturing environment for homeless people to produce art. Program volunteers accomplish this mission by sponsoring twice weekly art "classes" and an annual show where artists sell their work.
The film tracks five of the artists over the course of a year, showing homeless camps, the daily challenges of street life, and the strengths of human character. At the two-day art exhibit held each November here in Austin, the artists' work is sold. There the artists interact with people in a rare but positive environment.
Audience response was emotional to many of the films, as they laughed and cried. One moment that hit many a nerve was from Howard Cook, a homeless artist featured in Art from the Streets -- "I still have a song in my life."
Co-founder Rich Vazquez reported that the Lights. Camera. Help. Film Festival received over 140 submissions. Of these submissions, five were from Austin non-profit organizations (NPOs) with four submissions that were locally produced. Rich observed that only two or three Latino/Hispanic submissions were received, and we shared our thoughts on under-represented programs. Funding is becoming increasingly difficult for NPOs, as is access to staff with the technical skills to produce film and electronic media for their programs.
I also had the opportunity to speak with Lisa McWilliams of Mobile Film School about challenges faced by many grassroots NPOs, including lack of funding and the use of social media to promote causes. The Mobile Film School's In a Place Like This video was a finalist in Lights. Camera. Help. The short film was about a that program that takes media arts education on the road to rural and under-served communities. A series of workshops and ongoing educational programming has been offered to high schools in the Central Texas area.
If you haven't already, be sure to check out the Bob Bullock Immigration Project at the Texas State History Museum. Mobile Film School alumni from Elgin and Del Valle joined Mobile Film School volunteers to prepare a "teaser" for The Forgotten Gateway: Coming to America through Galveston Island.
We will be covering more news about Lights. Camera. Help as this organization moves towards its goals of providing resources to NPOs, including a volunteer match of director, editors and other film production related staff to non-profit programs and organizations in need these valuable resources.
[Photo Credit: Rich Vazquez and Layton Blaylock by Debbie Cerda]