Austin Theaters Support 'Eat Local Week'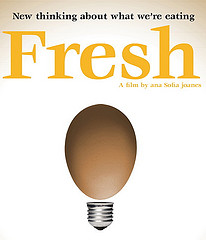 Two of Austin's most-loved theaters are showing their support for the community with special screenings during Edible Austin Eat Local Week. Kicking off December 5, this week provides opportunities for Central Texans to explore and celebrate the abundance of local food by eating out and shopping at participating area restaurants and markets. Money raised by participating businesses will go towards YouthLaunch's Urban Roots, a youth development program that uses sustainable agriculture to effect change for 14- to 18-year-olds, and to nourish East Austin residents who have limited access to healthy foods.
On Saturday, December 5, the Paramount Theatre presents a special screening of the powerful and inspiring food documentary Fresh, which has been compared to the eye-opening Food, Inc. Joel Salatin, who is featured in the film, will join Fresh director/producer Ana Sofia Joanes for an audience Q&A after the screening. Ticket prices are $15, $25 and $100. The limited $100 tickets include reserved seating and admission to a pre-screening reception with Joanes, Salatin and other featured guests in the State Theatre lobby. The reception will feature Austin's top chefs preparing locally sourced food tastings and local beverages. The event will also provide opportunities to meet and connect with many of Austin's local food nonprofit and support groups. Tickets are on sale now.
On Monday, December 7, Alamo BeneFeast will feature Julie & Julia at Alamo South Lamar, with chefs John Bullington and Trish Eichelberger preparing an exquisite dinner inspired by food featured in the film. The film will be followed by a Q&A with author Julie Powell, whom I interviewed earlier this year. Tickets are still available.
To see an updated list of event sponsors, participating restaurants and markets, and for a complete and updated listing of events during Eat Local Week, visit Edible Austin's website.