Austin Cinematheque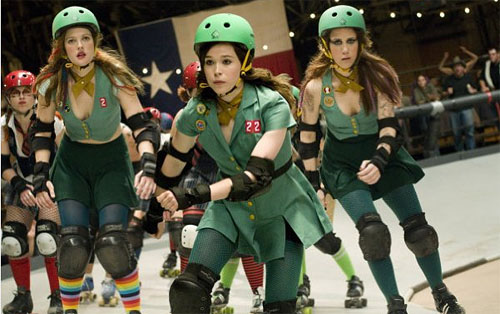 Sorry we didn't do a real Movies this Week last week; Fantastic Fest is all-consuming. Chaos reigns, and all. This week, we have some very Austin-centric films opening that we think you should know about.
Whip It --Drew Barrymore's directorial debut only filmed in Austin a few days, but most people won't be able to tell. If you ever needed an excuse to go to the Alamo Ritz to see one, now you have a reason, because one of the few interior scenes shot in Austin is right there. Go see it anyway, because it's fun, and chocked full of girl power. And there's Zoe Bell!!
Zombieland -- This gala film from Fantastic Fest is now open. Who said zombie films are dead? It's another fun one, and a real crowd pleaser. The Fantastic Fest audience went wild when the main character revealed he'd been a student at UT when the zombie outbreak began. The first part of the movie is set in Texas, although it was shot in Georgia.
Yeah, I should have done a Movies This Week on Friday and given you a bit of notice about some of the great film-related events going on tonight (Monday) in Austin. But that didn't happen ... and I didn't know about at least one of these until today. Take your pick:
Letters from the Other Side—I reviewed this documentary at SXSW, about families in Mexico who struggle to survive when the husbands/fathers cross the border to find better-paying work in the U.S. If you haven't seen this yet, tonight's the night, because director Heather Courtney has finally succeeded in obtaining visas for the women featured in the documentary to visit the U.S. and attend this screening. Reception at 5:30, free screening at 6:30, following by a Q&A with the women from the documentary.
Mouchette—Austin Cinematheque is hosting a free screening of Robert Bresson's 1967 film, tonight at 7:30 pm at UT's Texas Union Theater. Austin Cinematheque prides themselves on obtaining first-class 35mm prints of classic films. If you miss tonight's film, they're also showing Love Streams on Nov. 27, and ooooh! The Conformist on Dec. 4.
Two at Alamo—Over at Alamo Downtown, you can catch Jonestown: The Life and Death of People's Temple tonight at 7 pm ... or Tuesday and Wednesday at 9:45 pm. (I'm tempted to make it a double-feature on Tuesday with Porco Rosso.) I've heard good things about this documentary, although I'm not sure it's in the best taste for Alamo to serve free Kool-Aid with every admission. At 9:45 tonight, the Music Monday selection at Alamo is All Kindsa Girls, a documentary about the band The Real Kids, with $2 admission.