Movies This Week: Fantastic!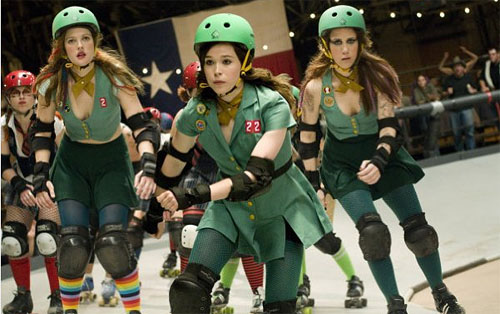 Sorry we didn't do a real Movies this Week last week; Fantastic Fest is all-consuming. Chaos reigns, and all. This week, we have some very Austin-centric films opening that we think you should know about.
Whip It --Drew Barrymore's directorial debut only filmed in Austin a few days, but most people won't be able to tell. If you ever needed an excuse to go to the Alamo Ritz to see one, now you have a reason, because one of the few interior scenes shot in Austin is right there. Go see it anyway, because it's fun, and chocked full of girl power. And there's Zoe Bell!!
Zombieland -- This gala film from Fantastic Fest is now open. Who said zombie films are dead? It's another fun one, and a real crowd pleaser. The Fantastic Fest audience went wild when the main character revealed he'd been a student at UT when the zombie outbreak began. The first part of the movie is set in Texas, although it was shot in Georgia.
Paranormal Activity --As much a "horror" film as it is a relationship film. I wasn't scared by it, and thought it should be 10-15 minutes shorter, but I can't fault the effort or the style at all. If you like paranormal themed films, you need to see this one.
Capitalism: A Love Story -- Michael Moore's latest. Nuff said.
The Invention of Lying -- Ricky Gervais' latest, where he invents lying in an alternate reality where everyone only speaks the truth.
Thirst -- This Korean horror film is back, this time at the Dobie. It's another usual take on vampires by the director that brought us Old Boy. I wasn't a fan of Old Boy, but I really liked Thirst.
Toy Story 1 & 2 in 3D -- I guess if you haven't seen them in a while, seeing them in 3D might be fun, but I'm not overly impressed with upgrades to 3D myself. Some theaters are playing them as a double feature, like they did at Fantastic Fest, and some as single features.
Bright Star -- The latest film from Jane Campion opened last week, but I want to point it out because I've heard good things about this arthouse film about English poet, John Keats, and the girl next door.
The Baader Meinhof Complex -- this movie about the Red Army Faction, a terrorist group from the 60s/70s, is continuing a second week at Dobie.
The Boys are Back -- Clive Owen as a widower. Too bad the screenings conflicted with Fantastic Fest obligations, or I'd be able to tell you more.
Personal Picks:
Debbie: I'm behind on non-Fantastic Fest films and family time, so I'm taking my 9-year-old niece to see Cloudy with a Chance of Meatballs. We are both bummed that she's too young for Zombieland, which I'll definitely see again soon. Check back for my review - coming soon!
Jenn: I haven't had enough of Fantastic Fest, so I'm going to see Otto: or, Up with Dead People at the Ritz on Sunday. And then maybe see Whip It again, since I'm there.
Jette: Austin Cinematheque is showing the classic G.W. Pabst silent film Pandora's Box on Monday night at 7:30 in the Texas Union Theatre. Austin Cinematheque prides themselves on procuring the best prints possible, usually in 35mm, so this is well worth catching. Besides, admission is free.