Insider's Guide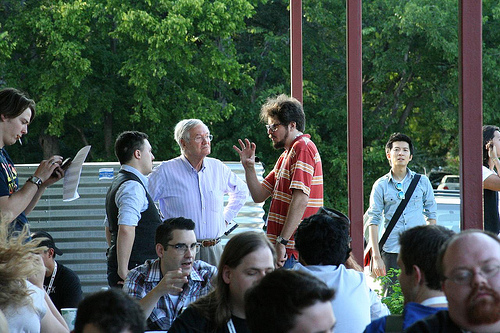 I originally called this guide "celebrity tips," but "celebrity" is a slight exaggeration. We don't do a lot of that in Austin. However, anyone who spends time at film festivals in Austin will recognize some of not all of the folks sharing their wisdom about making the most of Fantastic Fest.
Here at Slackerwood, we've shared tips about How to Drink Like an Austinite, the Fantastic Fest venues and last year's still-relevant Fantastic Fest 2010 Survival Guide, from A to Z (a great companion piece to our Festival Survival Tips). But we aren't the only festival veterans out there, so it only seemed logical to get some input from other Fantastic Fest experts. If you don't know them, you can meet them at the festival; I promise they won't bite, and you won't regret it.
Kat Candler, Filmmaker
If there was a "Most Supportive Filmmaker" award, it would be retired; I can't list all the times I hear Austin and Texas filmmakers mention Kat (Hellion, jumping off bridges) as a pivotal resource when talking about their own films. Her first Fantastic Fest was last year, but she has some priceless tips.
Over the years, Slackerwood has published a number of special guides covering free and cheap summer films and all manner of assistance for film festivals, including survivor guides, newbie guides and our food guides, which are so popular that for SXSW 2011 we collaborated with the fest on a printed restaurant guide. They're so much fun to write that we decided to make them a monthly feature. We're expanding the topics, too, to help Austinites and those who visit our city make the most of the Austin film scene. And what better way to kick off this new series than with one of Austin's best kept secrets: frequent free movies at many branches of the Austin Public Library.
I'm not talking only about arcanely obscure films; APL's diverse programming includes family fare, topical documentaries, classic foreign language films and even a series that celebrates bad movies. The selections are both old and very new, including 2011 releases. Next month APL is kicking off a new year of "Community Cinema," which starts with a local premiere of a documentary that won't air on PBS until October, and includes a special post-screening discussion with relevant community organizations related to each film in the series.
Most Austin Public Library film programs run weekly or in some cases monthly on the same time/day of the week, and programming is offered at different branches around the city. All APL programs are free and open to the public. And even better, some screenings include light refreshments, such as popcorn. Who can top that? Just remember that food and drink can only be consumed in designated areas per APL policy. Ratings have been included in our listings when available, but not all films have been MPAA reviewed, so keep in mind not all are appropriate for all audiences.