Fantastic Fest 2011 Guide: How To Drink Like an Austinite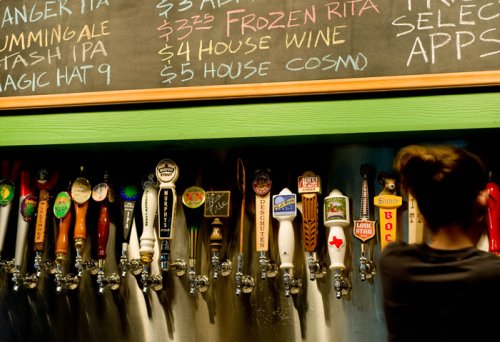 Every year the Alamo Drafthouse serves up Fantastic Fest film programming to satisfy a diverse and eclectic range of tastes amongst festivalgoers, and this year is no exception over eight days and nights. Similarly, visitors to Austin for the festival can experience an equally diverse selection of adult libations to satisfy any palate.
This year's Fantastic Fest beer sponsor is Shiner Beers from the Spoetzl Brewery, which was founded about 100 years ago in Shiner, Texas. Shiner is best known for their flagship brew, Shiner Bock, which makes up over 80 percent of the brewery's sales. In addition, Central Texas has experienced a welcome growth of local craft breweries. Find out what's new on tap at the Alamo Drafthouse South Lamar as well as nearby watering holes, and what you don't want to miss after the jump.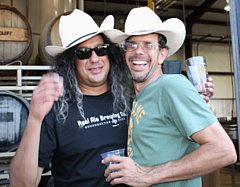 Central Texas breweries have tripled in recent years. Some of the newest breweries in production include Jester King Craft Brewery, Circle Brewing Company, Austin Beerworks Company, Twisted X Brewing Company, and Ranger Creek Brewing and Distilling. Local favorite Real Ale Brewing, which just celebrated its 15th anniversary, is now the largest craft brewery in Texas with construction underway for more production, bottling, and storage capacity. While Fantastic Fest 2011 is in full force, local craft brewers will be drawing their own crowds at the Texas Craft Brewers Festival in Austin on Saturday, September 24.
Find out what's on tap at the Alamo Drafthouse South Lamar. For local beers that you can't get out of state and don't want to miss, I recommend:
For folks who enjoy beer but have dietary issues, the Alamo Drafthouse now features gluten-free beer at all locations.
So how can you find great local beer in Austin? Arm yourself with information from Taplister as well the Austin Beer Guide. This collaborative effort between Beertown Austin and Craft Austin features information on craft breweries in Central Texas and where to find it -- unlike other states, in Texas it is illegal for the breweries themselves to promote their retail locations. The Austin Beer Guide maps are extremely useful to anyone not familiar with downtown and south Austin.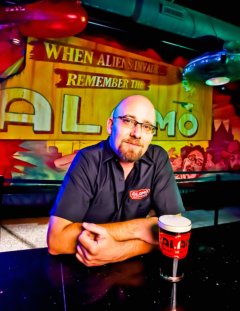 The Highball is the closest bar to Alamo South Lamar and the best bet for beer and drinks between screenings. This diner and bar features eight lanes of bowling, seven different themed karaoke rooms, and a ballroom event space that will be the home of Fantastic Arcade.
Internationally renowned mixologist Bill Norris joined the Alamo and Highball team in July as their beverage director to help develop the Alamo's liquor program -- read Alamo Drafthouse's full announcement here. With Bill in the mix, rest assured that there will be plenty of new concoctions while keeping the beer selection fresh and exciting.
The Highball features 12 local taps and four rotating taps, offering staff's personal favorites as well as seasonals.
Want to venture out further for a drink? Here are my recommendations on where you can find a good selection within a short distance by foot, bus or cab:
Downtown/North of the River
Barton Springs Road
South Lamar
My staple advice -- avoid Sixth Street unless you are there for a screening at the Ritz. If you do venture into the belly of the beast, stop by Lovejoy's Taproom and Brewery for one of their house brews.
Remember that moderation is the best cure for a hangover. As with any film festival and the socializing that accompanies it -- it's a marathon, not a sprint! Just kindly step over me if I've hit the wall from not enough sleep and too many hours in the theater.
Any recommendations from our fellow Austinites or seasoned Fantastic Fest visitors? Leave a comment and we'll add it to the guide.
[Photo Credits: "Red's Porch Taps", courtesy of Davis Tucker; "Head Brewers: Erik Ogershok of Real Ale Brewing Company and Brian Peters of Uncle Billy's Brew & Que", by Debbie Cerda]