Movies This Week: May 15-21, 2015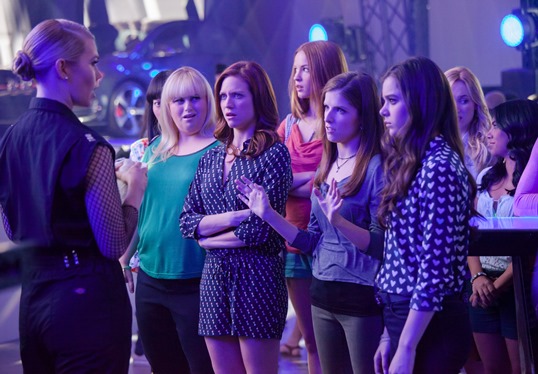 The Violet Crown Cinema has an encore screening of its Arthouse Monthly series Sunday night with the acclaimed new documentary I Am Big Bird: The Caroll Spinney Story. In her review, Jette says it's a "pleasant and sometimes touching profile of Caroll Spinney, who has spent decades portraying both Big Bird and Oscar the Grouch on Sesame Street and elsewhere." Tickets are on the verge of selling out, but if you miss out on this one-time local screening, the film is available now on cable and digital VOD from Tribeca Film. In addition, Violet Crown is holding over Austin-shot indie Arlo and Julie (Elizabeth's review) for another week, with daily screenings.

The Austin Film Society kicks off the weekend with Jess Franco's 1971 avant-garde horror film Vampyros Lesbos, which screens tonight at the Marchesa. On Sunday afternoon, AFS is teaming up with the Austin chapter of the National Alliance on Mental Illness for a 35mm benefit screening of the documentary The Devil and Daniel Johnston, a 2005 profile of the local musician/artist.
On Wednesday night, Richard Linklater is presenting one of his favorite films of the 80s, Tim Hunter's River's Edge in 35mm. He'll be on hand for an introduction and then to lead a post-film discussion for the "Jewels In The Wasteland" series. The AFS "Songs Of The South" Essential Cinema series is featuring Intruder In The Dust on Thursday night. This 1949 feature from Clarence Brown tells the story of a black farmer falsely accused of murder in the South and is presented in 35mm.
Alamo Drafthouse Ritz continues its Orson Welles retrospective on Saturday and Sunday with the 1998 restoration of Touch Of Evil in 35mm. This version contains over 20 minutes of footage that was cut from the original 1958 release. Also part of this ongoing series, Monday night will feature Welles' 1962 adaptation of Franz Kafka's The Trial starring Anthony Perkins in a digitally restored version, and that will be followed by a pre-packaged clipshow of interviews with Welles from over the years. Ritz also has a 35mm print of Robert Altman's O.C. & Stiggs on Sunday night, a special Tuesday night screening of Jesus Christ Superstar with Ted Neely (Jesus), Kurt Yagjhiam (Annas) and Larry Marshall (Simon Zealotes) on hand for a post-film Q&A, and Scorsese's 1977 epic New York, New York screening in 35mm on Wednesday night for Cinema Cocktails.
Not to be outdone, the Alamo South Lamar is presenting the nation's only 35mm print of the He-Man classic Masters Of The Universe on Sunday afternoon, hosting a special Mondo screening of Cronenberg's Scanners on Tuesday night, and teaming up with aGLIFF for the area premiere of 54: Director's Cut on Wednesday. Mark Christopher's 1998 film was notoriously edited after poor test screenings to remove a lot of gay-themed content and the release version was filled with reshot footage. Premiering earlier this year at the Berlin Film Festival, this new version removes a lot of the added footage, puts back in scenes that were cut out and offers a restored original ending.
If action classics are your thing, head to the Alamo Village on Sunday or Wednesday night for John Carpenter's Escape From New York. They've also got the 2011 remake of John Woo's A Better Tomorrow on tap for Asian Movie Madness on Tuesday night. That screening is free with the purchase of a $5 food and beverage voucher online.
Movies We've Seen
Max Max: Fury Road - 70-year-old Australian director George Miller has finally resurrected his Mad Max franchise after years of development hell. Tom Hardy takes on the title role this time around, marking the first film in the series without Mel Gibson. Charlize Theron and Nicholas Hoult also star in the action-packed thriller that critics are falling all over themselves to praise. Earlier this week, it was granted a rare 5-star review and tagged "Essential Viewing" at The Dissolve. The film also has a pre-release score of 99% at Rotten Tomatoes, making it a rare blockbuster that could win over critics and huge crowds. Mike's review will run Saturday -- he says the movie is "a joyride so big, so incredibly over-the-top, it's got the potential to redefine what we expect in an action film." (wide, available in 2D, 3D and D-Box Motion Seating screenings)
Pitch Perfect 2 (pictured above) - The weekend's other big release is a sequel to surprise 2012 smash comedy about college a cappella competitions. Producer/co-star Elizabeth Banks gets into the director's chair for the follow-up that is bound to please fans of the first film, even if it doesn't quite measure up. Elizabeth has our review and calls out the film's "lazy and ridiculous writing," paying close attention to stereotypes and limitations of both films while noting that the musical performances are fun and that the movie "actually touches on some deep themes: growing up, deciding on next steps after college, and sisterhood, for example." (wide - Alamo Lakeline and South Lamar are also hosting pajama parties for the movie Saturday morning, Alamo Slaughter Lane and Village follow suit Sunday morning)
Also Opening in Austin
Area 51 - Obsessive genre fans may be excited about this new flick from Paranormal Activity director Oren Peli, but I doubt too many other people will be. This movie started shooting back in 2009 and was plagued with issues that culminated in additional shooting two years ago. It's finally being released and it's exclusively in Alamo Drafthouse locations across the country for one week while also being available to rent from cable and digital VOD as of today. (Select showtimes at all local Alamo locations)
Iris - The final film from legendary documentarian Albert Maysles (Grey Gardens, Gimme Shelter) focuses on Iris Apfel, a 93-year-old "style maven" who grew up during the Great Depression and went on to work at Women's Wear Daily and become a well-respected interior designer. She spent decades restoring fabrics from museum collections and even the White House. With a solid 100% Fresh rating on Rotten Tomatoes, it's a movie Manohla Dargis of The New York Times calls "a delightful eye-opener about life, love, statement eyeglasses, bracelets the size of tricycle tires and the art of making the grandest of entrances." (Regal Arbor, Violet Crown Cinema)
Lambert & Stamp - Fans of The Who won't want to miss James D Cooper's stark black-and-white documentary that first premiered at last year's Sundance Film Festival. Young filmmakers Chris Stamp and Kit Lambert were looking to document the exploding mod scene in 1960s London and they ended up discovering the band that would become The Who. This film chronicles their friendship and working relationship, which found them co-managing the band and guiding them through their career. David Rooney at The Hollywood Reporter called it "as probing and candid as one could hope for -- stuffed with memorable anecdotes and tasty trivia nuggets." (Regal Arbor)