Review: Pitch Perfect 2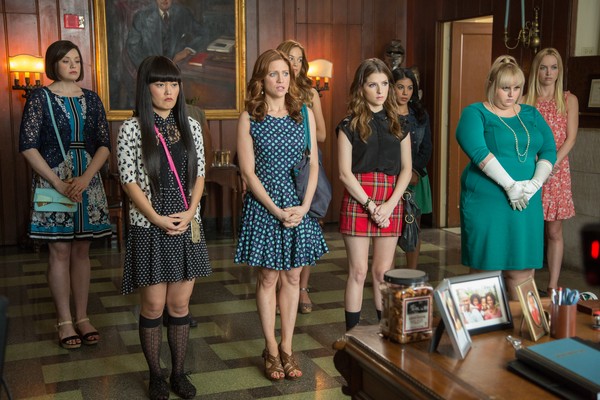 The Barden Bellas, with their zany vocal antics, are back. Elizabeth Banks, who produced Pitch Perfect the first, directs the new sequel -- as well as returning to her role as a cappella commentator Gail. Pitch Perfect 2 shows the collegiate group three years after their win at nationals.
So much is packed into this two-hour musical comedy, but I'll try to break it down for you. Beca (Anna Kendrick), with dreams of being a music producer, snags an internship at a studio and doesn't tell her friends. Fat Amy (Rebel Wilson) ruins a Bella performance at Lincoln Center and the group's performing duties as current national titleholders are stripped away. New freshman/legacy Bella Emily (Hailee Steinfeld, True Grit) joins the group and they plan to compete in an international a cappella competition in Denmark.
Pitch Perfect 2 skips from situation to situation -- it's more like a longform sitcom than any other movie I've seen recently. Unfortunately, the script includes some lazy and ridiculous writing. A Latina Bella (Chrissie Fit) is relegated to stereotype, stuck with cringeworthy comments to the other girls about her brother trying to barter her for a chicken, or her likely being deported after college and coming back illegally. Besides her flipping skills, her character is basically a caricature. The limitations of the first film haven't been improved on in this regard.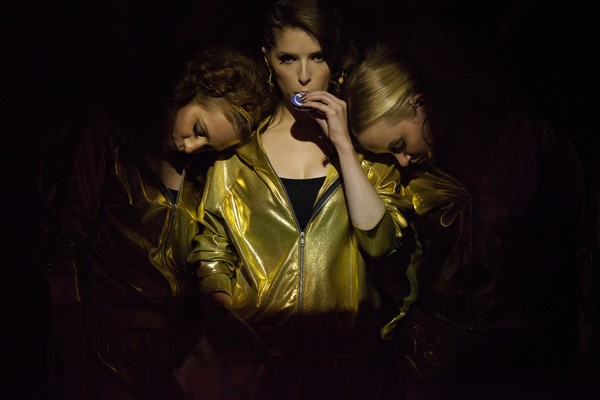 In the sequel's favor, it knows you want to see vocal numbers and has them in spades. Pitch Perfect 2 includes a fun riff-off competition, a hilarious serenade and of course, performances by the Barden Bellas. The choreography is tight, with excellent staging -- especially for the German team the Bellas must defeat. Their car show number is an amazing feat... although one wonders why a German team sings in English with strong accents instead of just singing in German (but let's not think too deeply about that). Their stark a cappella harmonies on Muse's "Uprising" are fairly enthralling, thanks partly to Deke Sharon, who oversaw all the vocal arrangements.
Celebrity cameos, along with product placement, abound -- even in non-speaking roles, such as GMA's Robin Roberts' fleeting appearance towards the end. I was less surprised to see a cappella pop sensation Pentatonix (and my favorites from The Sing-Off season 4, The Filharmonic) when they showed up.
My friend who attended the Pitch Perfect 2 screening with me pointed out that this comedy actually touches on some deep themes: growing up, deciding on next steps after college and sisterhood, for example. I'd agree, and note that the Bellas' performance at the finale is particularly touching because of this. The film is certainly at its strongest during the musical numbers... it's mainly the writing that makes this a movie I'd only rewatch if I could fast-forward around the moments with awkward dialogue.
Austin connections: Art department coordinator Jarrette Moats is based in Austin.