SXSW Review: Arlo and Julie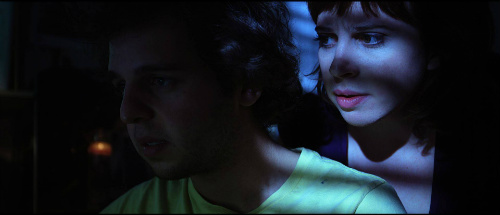 Arlo (Alex Dobrenko, Hell No) and Julie (Ashley Spillers, Loves Her Gun) are your typical young twentysomething Austinites. Arlo works at a software company but writes historical articles about General Grant on the side. Julie is a waitress at a restaurant that looks like Eastside Cafe. They live, love and get by in a fourplex on W. 29th. One day, Julie receives a couple of puzzle pieces in the mail.
Such is the premise for director Steve Mims' adorable mystery-comedy Arlo and Julie. Filmed around Austin -- and on a soundstage at UT's RTF department -- this movie is a quirky look at obsession. As Julie and Arlo become more and more engrossed in this puzzle of puzzles, their lives and goals are ignored. The script, which Mims also wrote, is filled with laughs and bits of Civil War trivia.
Old jazzy numbers punctuate scenes of Julie and Arlo waiting for the postman (Chris Doubek, The Happy Poet) or chatting with their friends Trish (Mallory Culbert, Saturday Morning Mystery), Rob (Hugo Vargas-Zesati) and Dirk (Sam Eidson, Zero Charisma). The music, witty banter, and backdrop of the downtown skyline bring to mind the best aspects of Manhattan.
But this is such an Austin movie -- touches like the bag of Ruta Maya coffee on top of the fridge or old copies of the Austin Chronicle* littering the kitchen floor set the place. Dobrenko told us after the Tuesday screening at SXSW that Mims wrote the role of Arlo with him in mind. There aren't a whole heck of a lot of characters in Arlo and Julie, but they are all fully developed and expertly performed. Spillers and Dobrenko have great timing and are so goshdarn cute together.
We were told at the screening that most of the crew was made up of Mims' production students from The University of Texas. There are some rare times when the dubbing is off or the continuity isn't pat, but this low-budget film (which had a successful crowdfunding campaign under the title Alex & Ash) has a quality appearance and feel.
*specifically, the Austin Chronicle cover story from last year about Only the Young, directed by one Elizabeth Mims.