Review: I Am Big Bird: The Caroll Spinney Story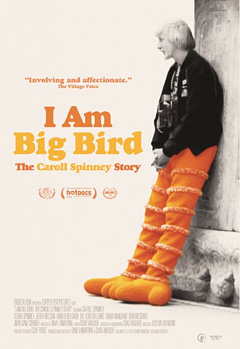 The documentary I Am Big Bird: The Caroll Spinney Story is exactly what you'd expect it to be, if you're a Muppet fan ... and also exactly what you'd hope it would be. Tonight's Violet Crown screening is sold out, but you can watch the film via online streaming outlets such as Amazon, iTunes and Vudu.

The film is a pleasant and sometimes touching profile of Caroll Spinney, who has spent decades portraying both Big Bird and Oscar the Grouch on Sesame Street and elsewhere. It's traditionally structured, primarily by time sequence -- beginning with his childhood and early puppet and acting gigs, and heading for the present. Interviews with Spinney help form the backbone of the film -- he tells us his own history, supported by other interview from his family to Sesame Street colleagues such as Frank Oz, Joan Ganz Cooney and Norman Stiles.

Naturally I Am Big Bird includes a great deal of vintage Sesame Street and Muppet footage, starting from the days when Oscar was orange and Big Bird didn't have quite so much plumage. The footage is delightful but also occasionally poignant -- it's impossible to talk about Big Bird without mentioning the episode about Mr. Hooper's death, and it's impossible to talk about Muppet history without mentioning Jim Henson's death.
Although the structure is fairly traditional, filmmakers Dave LaMattina and Chad N. Walker manage some excellent segues that cover a lot of ground. For example, after showing scenes from Jim Henson's memorial, Spinney and Oz discuss Steve Whitmire taking over Kermit's character, which naturally leads to addressing what will happen when Spinney retires, and introduces his Big Bird apprentice, Matt Vogel. An early sequence about the filming of Big Bird in China pays off later in the film in a way that may be predictable but is no less affecting.
The documentary makes it clear that over the years, Spinney has managed the challenging feat of balancing his personal and professional lives (even more challenging if you are in the public eye) -- if there's a skeleton in his closet, it isn't rattling here. About the worst thing the film can dig up is that Spinney didn't always get along with early Sesame Street director Jon Stone, and even then, they point out that the friction may have actually been a benefit to the show.
Spinney is also a painter and illustrator, so it's fitting that I Am Big Bird uses animation in a few scenes to visualize some of the more important stories he tells, where footage is not available. One animated sequence explains clearly how Spinney makes Big Bird work ... showing how amazing it is that Big Bird is able to display the range of emotion that he does, and that Spinney has been physically able to do such demanding work for so long. In addition, stay through the credits to see a number of Spinney's personal drawings, some from vacations and some of Big Bird and friends.
I Am Big Bird is a documentary geared toward adults who grew up with Sesame Street -- it's lovely to see interviews with the live-action cast as well as the puppeteers -- although it would be fine for older children who aren't embarrassed that they used to like Sesame Street. Muppet and Sesame Street fans will enjoy it very much, but it's careful not to get too "inside baseball" so a wider audience can appreciate it too. And yet, as the movie points out, who out there these days doesn't know about Big Bird?