A Classic Movie Fan's Dream: 2015 Summer Film Classics at the Paramount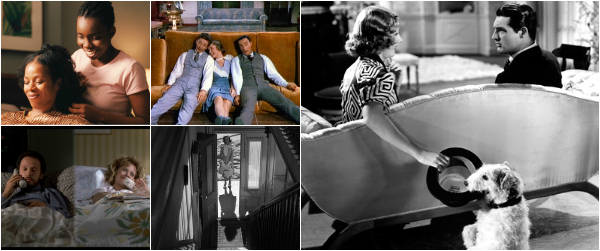 I've compiled a list of my favorites from the Paramount Summer Film Classics schedule for Slackerwood since 2012, so it's with this post that the upcoming end of the blog really hits me. It's been a great run, folks.
This 100th year of the Paramount Theatre means there's quite a schedule in store for us this summer. As in years past, films will screen at both Paramount and Stateside. Tickets are $12, which you can purchase online or at the venue. If you plan to see more than a few of these movies, it's probably worthwile to invest in FlixTix (a pack of 10 tickets for $60) or become a Film Fan.
And don't forget your admission covers double features! Without further ado, my last Paramount Summer Classics roundup for Slackerwood:
The Iron Giant (1999) -- The animated science-fiction story of a boy and his giant metal alien friend, which I reviewed last year for Lone Star Cinema, is a lead-in to the theater's Family Film Festival in July. (Sat 5/23 @ Paramount)

Female filmmakers -- Pariah played the 2011 Austin Film Festival and the coming-of-age drama was one of the best films I saw that year [Don's review]. The Dee Rees film will be paired with Agnes Varda's Cleo From 5 to 7 (1962) on Thurs-Fri, 6/25-26 at Stateside. It's all Penny Marshall at the Paramount that weekend, as her baseball classic A League of Their Own (1992) and the comedy Big (1988) play Saturday evening, 6/27, and Sunday afternoon, 6/28.
True Grit (2010) -- Jette reviewed this Coen Brothers' Western, which was filmed in the Austin area. I remember walking by part of the set while walking to church one Sunday -- some epilogue scenes were filmed blocks from the Stateside ... which is where this will screen on Tues-Weds, 6/30-7/1.
The Awful Truth (1937) -- This screwball comedy, directed by Leo McCarey (An Affair to Remember, Duck Soup), is the first pairing of stars Irene Dunne and Cary Grant, who would go on to make two more films together (the similarly light comedy My Favorite Wife and hokey weeper Penny Serenade). Dunne and Grant play a married couple whose miscommunications and insinuations lead them to file for divorce. Co-starring Ralph Bellamy, who, as ever, does not win the girl -- also, wonderdog Asta (Bringing Up Baby, The Thin Man movies)! (Weds 7/22, 7 pm @ Paramount)
When Harry Met Sally (1989) -- Directed by Rob Reiner from a screenplay by Nora Ephron, this quotable comedy about the evolving relationship between Harry (Billy Crystal) and Sally (Meg Ryan) is one I watch at least once a year. Co-starring Carrie Fisher and Bruno Kirby. Double-featured with the Hepburn-Tracy legal comedy Adam's Rib, wherein Judy Holliday steals the show. (Sat-Sun 7/25-26 @ Paramount)
Amadeus (1984) -- Milos Forman's delightfully twisted biopic of Austrian composer Wolfgang Amadeus Mozart features an award-winning performance from F. Murray Abraham as antagonistic composer Salieri. Despite the historical inaccuracy, it's still a must-see for any music lover. Seriously, my music history professor made our class watch it in college. (Tues 8/4 @ Paramount)
Singin' in the Rain (1952) -- A blithe look at the move from silent films to talkies, the Stanley Donen film includes the "Gotta Dance" number that showcases Cyd Charisse's dancing talent. Gene Kelly and Donald O'Connor sing and dance to "Moses Supposes" (see video above) and Debbie Reynolds becomes a star. (Weds-Thurs 8/5-6 @ Paramount)
Back to the Future trilogy -- How can you miss the opportunity to watch the three Back to the Future movies, back-to-back in a hundred-year old theatre? Three Marty McFly movies for the price of one is just too great a deal to pass up. Starts at 1 pm, plays as part of the Family Film Festival. Adult tix $10, kids $6. (Sun 8/9 @ Paramount)
Shadow of a Doubt (1943) -- Teresa Wright plays Charlie, a young woman who suspects that her visiting uncle (Joseph Cotten) is a murderer. Playwright Thornton Wilder was one of the collaborators on the screenplay for this artfully shot, carefully composed Hitchcock film. Double-featured with Mr. & Mrs. Smith (1941), Hitchcock's venture into screwball comedy starring Carole Lombard and Robert Montgomery. (Tues-Weds 8/18-19 @ Paramount)
These are just my selected notable films on the schedule -- you can view the complete list here.