DVD Review: True Grit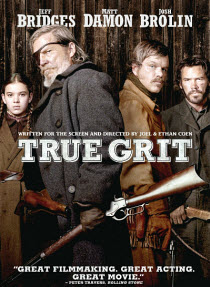 I didn't review True Grit when it opened in theaters late last year because I did something film critics should never, ever do: I watched the movie and then I read the book before writing my review. Details from the book jumbled with the movie and I couldn't always remember which was which. Fortunately, Mike was happy to write a review for Slackerwood instead.
So I'm pleased to have the chance to see True Grit again, now on DVD
and Blu-ray
, and start over with a clean slate. Filmmakers Joel and Ethan Coen have brought us an excellent movie that plays very well on home video, although the visuals aren't quite as breathtaking as they might be on a theater screen. It's a movie I not only like but could watch with a mature adolescent or with my parents, and how often can you say that?
I enjoyed the Charles Portis novel more than the film adaptation (the narrator is a hoot), but this doesn't detract from my enjoyment of the movie, primarily due to the admirable performances. Newcomer Hailee Steinfeld is able to hold her own as Mattie Ross up against Jeff Bridges as Rooster Cogburn and Matt Damon's Redford-esque turn as LeBoeuf. The Coens focus their movie of True Grit on Steinfeld's character (despite what the DVD cover implies), as in the novel and as opposed to the 1969 movie, which was more of a vehicle for John Wayne.
For those of you who don't know the story from the novel or the earlier movie, Mattie Ross is a headstrong teenage girl who wants to hire a U.S. marshal to help her track down Tom Chaney, to bring him to trial for killing her father. She sets her sights on Cogburn, a hard-drinking U.S. Marshal with a determination she finds appropriate for the job. However, Texas Ranger LeBoeuf also wants to track down Chaney and bring him to Texas for a significant reward. The men might be amenable to working together but neither wants a 14-year-old girl on his hands. They find out quickly that Mattie Ross is one of the stubbornest characters ever to grace the page or screen, and she insists on having things her way.
I love the strong-willed Mattie, and I wish I'd read True Grit as a girl; it is just the kind of novel I would have enjoyed then and do now. The Coens have been faithful to the source, while at the same time adding some of their own characteristic touches, like the surreal Bear Man and some oddly humorous dialogue for the undertaker at the beginning of the film. Once I read the book, the voiceover at the beginning of the movie sounded all wrong -- it should have been older and a bit harsher -- but I suspect the filmmakers were tying it in to the movie's epilogue.
One improvement on the novel is the relationship between Mattie and LeBoeuf, which has an odd spark that is almost sexual, bearing in mind such a relationship between a 14-year-old girl and a man Damon's age was perfectly possible in the 1870s. And the race-with-the-clock sequence at the climax of True Grit is beautiful and touching and suspenseful, far more vital than it felt in the novel.
I'm of two minds about the almost stilted dialogue in the film. It's faithful to the book ... but the novel is from the point of view of an elderly woman who would naturally speak and write in that way. With that narrator gone, I'm not sure it's faithful to the characters themselves, and at times it felt unnatural during my first viewing of the movie. However, watching it again, I didn't have that difficulty.
Speaking of the dialogue, I recommend making sure you have a video setup with good audio components. Jeff Bridges can sound a little mush-mouthed at times and you'd hate to miss anything he says. More importantly, the score is almost poetic, and worth hearing in as high quality as possible. Once again, composer Carter Burwell (who has scored Coen brothers' films since Blood Simple) weaves something amazing out of existing songs.
My review copy of True Grit was a DVD, and the video and audio were perfectly fine -- I encountered no problems. I'd like to watch this movie again on a Blu-ray, however, which I think would add just a little more luster to the first-rate cinematography and score. This is a movie that deserves the best audio and video fidelity possible. Right now, the Blu-ray is actually cheaper on Amazon than the DVD, so you don't need me to tell you which one to pick.
True Grit is respectful to the Western genre, features a strong female character, and is skillfully written and directed by the Coen brothers, without an excess of Coen-y quirkiness. In the last few of their films I've seen, there's a distancing feeling ... that they're not fond of their characters, that they want to deny the audience certain plot points or scenes that it expects, that they are cynical and jaded about Hollywood moviemaking. (This doesn't mean the movies are bad -- I am very fond of Burn After Reading and A Serious Man.) None of those techniques are apparent here -- True Grit may be one of their most traditional films, and one I think we'll still be watching and enjoying in decades to come.
Special features: The features on the DVD are the usual featurettes: "Mattie's True Grit" about Mattie's character and Steinfeld, which includes clips of Steinfeld's screen test; "From Bustles to Buckskin" about the costumes, which I found more interesting than I would have guessed; "Re-Creating Fort Smith," which shows how Granger, Texas was transformed into the setting of the movie and which might be interesting to Central Texans; and one about the cast in general. There's no commentary track. The Blu-ray also includes featurettes on the film's weaponry, Charles Portis (now that I might have liked watching) and cinematography.
Austin/Texas connections: Joel Coen attended grad school at The University of Texas at Austin, after which he and Ethan Coen shot Blood Simple in Austin. True Grit was shot in New Mexico and in Central Texas, primarily in nearby Granger. The epilogue sequence was shot partially near the Austin Club downtown (not that you'd recognize much). I caught a glimpse of local actor/producer Dan Eggleston as one of the men Mattie pushes past at the door of the courtroom. Many other extras and crew members are Central Texans.