A Classic Movie Fan's Dream: 2012 Summer Film Classics at the Paramount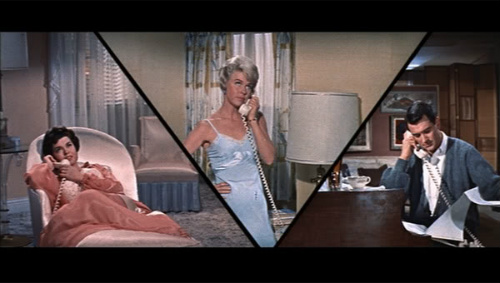 One of the best things about living in Austin is getting to attend some of the classic films that screen each summer at the Paramount Theatre. The full Paramount Summer Classic Film Series schedule has just been released, with movies screening at Stateside this year, too.
Here are some from the bunch I find worth noting:
Pillow Talk (1959), pictured above, helps start the summer series off -- screening with the far more serious To Kill a Mockingbird. Although I've been a fan of classic movies since elementary school, it is only in recent years that my love and admiration for Doris Day has grown. This comedy, featuring Day as an interior designer forced to share a party line with playboy Rock Hudson, is now one of my favorite movies, and I can't wait to see it on the big screen! (9:35 Thurs, 5/24; 7 pm Fri, 5/25)
An Affair to Remember (1957) -- Cary Grant, Deborah Kerr, and pink champagne! If you love Sleepless in Seattle and haven't yet seen this drama (dramedy?) referenced throughout that '90s film, here's your chance. (7 pm Fri, 6/1)
Hooray for a focus on female filmmakers! Films by Ida Lupino (Outrage), Amy Heckerling (Clueless), Claire Denis (35 Shots of Rum), and more are included in this short series screening Tues-Sun, 6/5-10.
Ishtar (1987) -- One of the biggest box-office bombs, this road-trip comedy directed by Elaine May gets a bad rap. True, I've only seen it once, and that was years ago, but I enjoyed it. You just might, as well. (7 pm Tues, 6/12; 9 pm Weds, 6/13)
The Manchurian Candidate (1962) -- Since this film was remade not too long ago, I like to refer to Frankenheimer's original as "the Angela Lansbury version." Lansbury plays a power-hungry politician's wife whose son has recently returned from service in the Korean War. Laurence Harvey, who plays her son, was only three years younger than her. She is perfectly chilling in this film, while Frank Sinatra, the protagonist, delivers one of the best performances of his career. (7 pm Thurs, 6/14; 9:30 pm Fri, 6/15)
Hitchcock Week, Tues-Sun, 6/19-24! Among the six films shown will be 1935's The 39 Steps (Robert Donat's sexiest role, IMHO [see still above]), 1956's The Man Who Knew Too Much (another Doris Day film! "Que Sera, Sera"), and the creepy Strangers On a Train from 1951. Everyone's favorite, North by Northwest, will also be shown.
Meet Me in St. Louis (1944) -- Mary Astor plays mama to Judy Garland, Lucille Bremer and Margaret O'Brien (plus two slightly less-memorable kids) in turn-of-the-century St. Louis, when a handsome boy moving next door and your hometown (St. Louis, of course) hosting the World's Fair was a very big deal. Songs in this Minnelli musical include "Have Yourself a Merry Little Christmas" and "The Trolley Song." (7 pm Thurs, 6/28; 2 pm Sun, 7/1; 9:10 pm Tues, 7/3)
The Spy Who Loved Me (1977) -- I dare you to see this Bond film and not get the Carly Simon theme song stuck in your head. (2 pm and 7:05 pm Sat, 7/5; 4:35 pm Sun, 7/8)
A Comedy Classics series! Three of my absolute favorite movies -- Waiting for Guffman (my review), Bringing Up Baby and My Man Godfrey -- are included in this weeklong event. Note to those who plan to see The Philadelphia Story: the last time I saw this Hepburn/Grant/Stewart film at the Paramount, members of the audience booed Tracy's dad. (Tues-Weds, 7/10-18)
The Third Man (1949) -- Many people love the score for this suspense film, but I am not one of them. Iron and Wine's Sam Beam will introduce the screening of this post-WWII drama. (7:30 pm Thurs, 7/19)
Freaks (1932) -- This horror film has become a cult classic. Tod Browning's film depicts the lives of folks in a sideshow. If you've heard someone quoting, "One of us! One of us!", well, that's a line from this movie. (7 pm Thurs, 7/26; 8:40 pm Fri, 7/27)
Chitty Chitty Bang Bang (1968) in 70mm! -- Based on a story by Ian Fleming and a screenplay by Roald Dahl, it has to be good (and it is!). Wonderful songs like "Truly Scrumptious" and "Chitty Chitty Bang Bang" appear in this musical about an inventor single father, his two kids, the new lady in their lives, and their amazing flying car. (2 pm Sat, 8/25; 2 pm Sun, 8/26)
You can view the full schedule
here
. The last page is a schedule of classic films that will be showing at Stateside! I believe this is a first. The movies shown at Stateside will be digitally projected. Among the films on this schedule are:
Start planning now!
[Still of Pillow Talk via I Love Hot Dogs, still of The 39 Steps via Criterion.]