Lone Star Cinema: The Iron Giant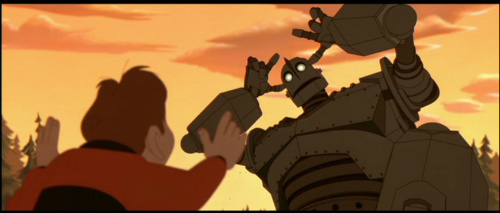 The Iron Giant may not have been a box-office success upon its original 1999 release, but the animated film based in 1957 Maine has come to be loved and appreciated by many in the years since. The quirky, heartbreaking sci-fi tale pairs the beauty of its hand-drawn animation with a powerful message.
Hogarth (Eli Marienthal, American Pie) is a young boy in fictional coastal town Rockwell (presumably named after this Rockwell) who stumbles upon a ginormous alien machine one night. Hogarth befriends the giant, who has lost most of his memory, and attempts to pass knowledge on to the larger being. Harry Connick, Jr. figures into the voice cast as a hipster scrap metal collector/artist who supervises some of Hogarth and the giant's interactions.
Meanwhile, Hogarth's widowed mom Annie (Jennifer Aniston) rents out a room to government agent Kent Mansley (Christopher McDonald, Thelma & Louise), sent to the town after reports of metal monsters and strange happenings make their way to Washington. As Hogarth tries to teach the giant that he can choose to be what he wants (instead of what the machine may have been designed for), Mansley is determined to prove the dangerous existence of the imposing metal figure.
Tim McCanlies (Dancer, Texas, Pop. 81) wrote the ingenious screenplay for The Iron Giant, from a screen-story by director Brad Bird (The Incredibles) that was based on poet Ted Hughes' 1968 children's book The Iron Man. The Cold War-era setting is intrinsic to the story here: Hogarth's elementary-school class is made to watch "duck and cover" PSAs (like this one) and Sputnik is mentioned multiple times. Mansley's paranoia and fear of "the other" seems very fitting for the period. Fear is a large force in this animated drama. Even the giant fears his own capability for violence as he inspires caution in the townspeople of Rockwell.
The Iron Giant is truly a quality film, but since this sweet animated movie makes me cry*, I've only seen it twice. The selflessness of the iron giant is inspiring; the machine, voiced by pre-superfame Vin Diesel, assures himself, "I am not a gun," as he makes a sacrificial decision (I'm trying not to be too spoilery here). The hope that overcomes the fear, though -- that's what sticks with the viewer and makes this creation so memorable.
*Even if you don't usually tear up at movies, this film is quite likely to make you do so.
Local/Texas connections: Screenwriter Tim McCanlies, whose film (When) Angels Sing played at SXSW 2013, lives in Austin.
[Still via This Cinematic Life]