2014 in Review: Elizabeth's Top Scores/Movie Music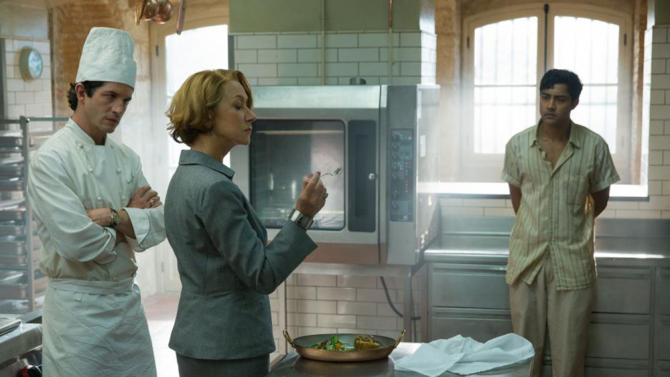 I made up this list before the Oscar nominations (grr) came out, and strangely enough, none of my picks for Best Score received a nod, even the one I assumed was a sure thing. Nevertheless, some movies this year featured phenomenal music, and I'd like to recognize them here.
I'll repeat my standards from a 2010 post: "The best film score complements the film perfectly and doesn't distract from the action onscreen, but is still distinct enough to stand on its own. Shoddy film music can ruin a movie (for me, at least), but a great film score serves to make a good movie even better."
5. Birdman, Antonio Sanchez
It seemed a given that, along with the other recognition this frenetic film received from the Academy, the percussion score would make the cut, but alas. The music by Sanchez adds so much to the Michael Keaton film (frankly, it's the only part of the movie I could appreciate) and easily adds to the frantic feel of the story (Mike's review). Here's a taste:
4. The Hundred-Foot Journey, A.R. Rahman
Capturing elements of traditional Indian and modern European, this score from Rahman (Slumdog Millionaire) perfectly fits into Lasse Hallström's film about competing restaurants in a French village. It's certainly a beautiful accompaniment to the luscious food cinematography. (my review)
3. Nightcrawler, James Newton Howard
A plaintive theme sporadically recurs in the score to this movie about a creepy man obsessed with making money off catastrophe. Howard's score is anxious, yet contemplative at the right times. The music carefully fits the action onscreen, never detracting from the actors' work. (Matt's review)
2. Belle, Rachel Portman
As in other period films she has scored (Emma), for this film Rachel Portman composes in the style befitting the time in which Belle is based (the 18th century). The music is classically influenced, with repeated motifs, heavy strings and an overall tone that follows the story being told. Each time I see the film, I find something new to appreciate about Portman's work here. (my review)
1. Under the Skin, Mica Levi
Levi's spare, never overbearing music for this film is a revelation. The composer relies on ambient effects and haunting electronics to accompany the science-fiction tale. In one scene -- with no dialogue from characters onscreen -- Levi's music tells the viewer everything we need to know about the danger to come. Just listen to this and see if you aren't affected.
Honorable Mention: Gone Girl, Trent Reznor and Atticus Ross
I hated the book so can't make myself watch the cinematic adaptation. However, I have heard the score and imagine that it likely works well with director David Fincher's tone and the intense drama onscreen. Reznor and Ross also worked with Fincher on The Social Network. (Caitlin's review)