Review: Belle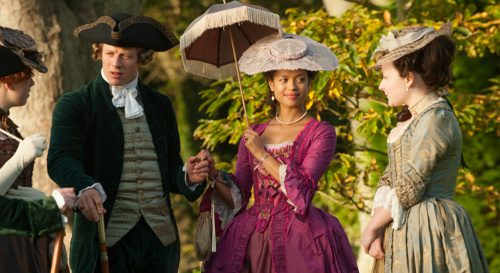 Watching Belle, the refreshingly atypical costume drama released nationwide this weekend, I was reminded of a quote from a book I finished recently. In Jill Lepore's biography of Jane Franklin (Ben's sister), she writes: "History is what is written and can be found; what isn't saved is lost, sunken and rotted, eaten by the earth." [Book of Ages: The Life and Opinions of Jane Franklin]
If Misan Sagay hadn't seen this portrait in a Scottish castle, we may never have learned about the life of Dido Elizabeth Belle. Based on the limited facts the screenwriter was able to find in her research -- given that Dido was a female in the 18th Century, there's unfortunately not a large amount known about her -- Sagay crafted a tale about this real woman, illegitimately born of a black woman and a white admiral, who was raised by the Murray family.
Dido (Gugu Mbatha-Raw, Touch) is left as a child with her great-uncle Lord Mansfield (Tom Wilkinson, Michael Clayton, The Best Exotic Marigold Hotel) after her mother's death. Her father (Matthew Goode, The Good Wife) assures her of his affection. "Know in your heart you are loved, just as I loved your mother," he tells her... then sails off to India. Lord Mansfield, his wife (Emily Watson, Hilary and Jackie) and sister Lady Mary Murray (Penelope Wilton, Downton Abbey, The Best Exotic Marigold Hotel) rear the child alongside her cousin Elizabeth (Sarah Gadon, Cosmopolis, A Dangerous Method).
Elizabeth and Dido grow up as close as sisters, although most sisters are able to dine together when they live in the same house. Society's rules mean Dido is unable to eat formal dinner with her family. She talks to her "Papa" Lord Mansfield about being too high to eat with servants and too low to eat with family. Issues of race and gender are not ignored in Amma Asante's film.
An overarching plotline involves an insurance trial Lord Mansfield will give opinion on as Lord Chief Justice of Britain. Love interest John Davinier (Sam Reid, Hatfields & McCoys), a vicar's son studying law with Lord Mansfield, practically lectures Dido (who as an upper-class woman was likely kept ignorant of most legal affairs) about the despicable events aboard the slaveship Zong. Reid's Davinier is a tad over-the-top at times, but the romance blooming between Dido and him is still sweetly portrayed.
Both Reid and the child actress who portrays Dido as a seemingly mute girl with no facial reaction are the weakest aspects of Belle. They don't detract from the other quality on-screen talent -- cast members also include Miranda Richardson and Tom Felton (aka Draco Malfoy from the Harry Potter series) playing Lady Ashford and her bigoted son James -- and behind-the-scenes forces Asante assembled.
Sagay's screenplay has bite to it, and a plot that is equal parts political drama, family drama and romance. A wistful string-heavy score by Rachel Portman accompanies Dido's story. The costuming (and wigs) by Anushia Nieradzik (Middlemarch) are sumptuous enough to be distracting. Mbatha-Raw as Dido delivers a performance on par with her elder co-stars, and she and Gadon match well as sister-cousins.
Dido of the film searched earnestly for something like herself reflected in contemporary paintings, but any girls who watch Belle will have a much easier time seeing the promise in this movie. I was on the verge of tears at least twice during my screening; it's amazing to witness such an intricate, emotionally powerful result of what can occur when women (especially the women of color who worked to create Belle) are able to tell their histories on film.