2014 in Review: Don's Top Ten and Other Lists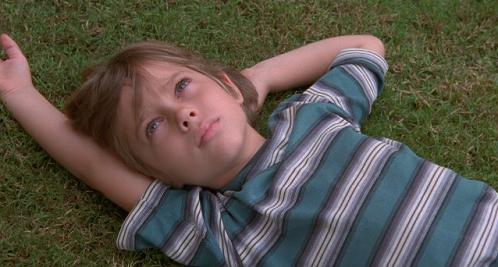 Here are my top ten and other notable films of last year.
To be eligible for my lists, a movie had to release in the U.S. in 2014 and screen in Austin in 2014 also. Some well-reviewed 2014 releases have not yet screened in Austin.
10. Joe
Nicolas Cage is at his understated best as an ex-con who hires a desperately poor teenager (Tye Sheridan, also terrific) to help clear a forest for development. Shot in Central Texas, David Gordon Green's haunting film explores the ravages of poverty and the nature of redemption. (Jette's review)
Every year, I hope to discover a low-budget local indie that deserves a place on my top 10 list. This year's honoree is Austin filmmaker Matt Muir's Thank You a Lot, a poignant tale of a hard-luck music manager who will lose his job unless he signs a reclusive country music singer who's also his estranged father. In his acting debut, Austin music legend James Hand gives one of the year's best performances as a fictional (mostly, that is) version of himself. (my review)
John Lithgow and Alfred Molina's gentle but genuine chemistry drives this story of New York newlyweds who, after a job loss, must live separately with family and friends while looking for cheaper housing. Love is strange indeed, especially in this smart, funny, perceptive film about family ties.
7. Ida
In 1960s Poland, a young nun discovers a disturbing secret about her family's past. Pawel Pawlikowski's stark black-and-white film is a provocative meditation on the horrors of war, with an impressive debut by Agata Trzebuchowska in the titular role. (Elizabeth's review)
6. Snowpiercer
After a failed climate change experiment freezes our entire planet, a lucky few survivors live aboard the Snowpiercer, a globe-traveling train whose passengers have formed a brutal caste system. The poorest among them rebel, waging a bloody battle for control of the train. The violent and mesmerizing Snowpiercer is an over-the-top visual feast and a powerful allegory. (Matt's review)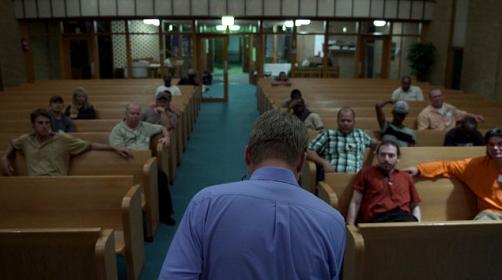 In this devastating documentary, a pastor in Williston, North Dakota opens his church to oil field workers who arrive in the tiny town during the recent oil boom. Rev. Jay Reinke does all he can the help the men, many of whom lead desperate lives -- but his parishioners and the church's neighbors are far less charitable. The Overnighters is a powerful and infuriating story of a compassionate man battling a community's fear and intolerance. (my review)
4. Whiplash
The electrifying Whiplash is a battle of wits between a talented young drummer and his maniacal teacher at a prestigious music conservatory. Whiplash is frenetic and exhausting -- but what a glorious ride it is, with powerhouse performances from Miles Teller as the obsessive drummer and J.K. Simmons as the bullying band leader who tries to motivate his students by scaring the hell out of them.
3. Gone Girl
Believe all the hype about David Fincher's gripping crime drama: It's a tantalizing tale of a vanished woman, a media circus and a husband who finds himself the prime suspect. Gone Girl delivers in every way -- as a confounding mystery, a cynically pleasurable love story and a shrewd commentary on our media culture. (Caitlin's review)
2. Birdman
Michael Keaton gives his career-best performance as a washed-up actor, once famous for playing an iconic superhero, who produces an intriguingly bizarre Broadway play in hopes of reclaiming his former stardom. Alejandro González Iñárritu's film is also intriguingly bizarre, a marvelously mystical mashup of broad comedy, personal tragedy and meditations on fame and life. (Mike's review)
Birdman is truly outstanding; wildly creative and deeply philosophical, it would have been at the top of my list if not for ...
1. Boyhood
In which Richard Linklater gifts us with one of the best films ever made. Boyhood is a masterpiece, a daring 12-year filmmaking experiment that paid off in so many wonderful ways. I could go on, but instead I'll just quote my unabashedly gushing review: "A film about so much more than just a boy -- really, it's about life. A film unlike any other before it, astonishing not just for the way it was filmed, but even more so for the poetic way it captures the human experience. And a film -- like Linklater's other groundbreaking masterpiece, Slacker -- that fans, critics and film scholars no doubt will be talking about decades from now."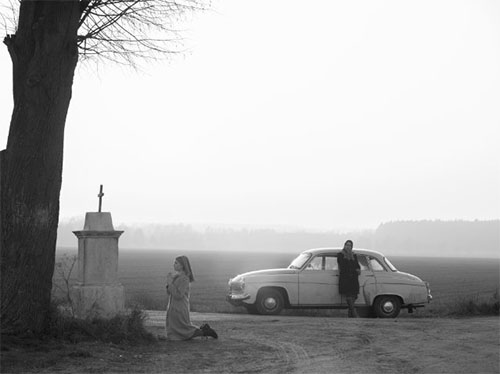 Films That Would Have Made My Top 10 List If It Were a Top 25 List:
Honorable Mention: God Help the Girl
Few movies are more fun than this charming musical throwback about a troubled young girl who spends a dreamlike summer in Glasgow with two struggling musicians trying to catch their big break. The music is pure retro sunshine (watch this trailer for a shiny, happy sample), the story is pure teenage heartache -- and God Help the Girl is the most beguiling film in years. (Equally beguiling is its star, Emily Browning; I want to date her cheekbones.)
Greatest Disappointment: Blended
WTF, Adam Sandler? The most fun I have as a critic is thinking of new and ever-meaner ways to trash your eminently trashable movies. I anxiously await every new pile of cinematic poo you fling at humanity, confident that it will be even worse than your previous work. But Blended? It's bad, of course -- but not proudly, grotesquely so (my review). It's just ... lame. And not very offensive. And so I am sad and disillusioned. Please redeem yourself with Grown Ups 3 or That's My Boy 2. Dan Patrick (he's now the Lite Guv of Texas, you know) and I are counting on you!
Support Your Local Film Industry! Please Watch These Wonderful Austin-Related Films:
Films That Didn't Make the Above Lists, But See Them Anyway