Movies This Week: October 31-November 6, 2014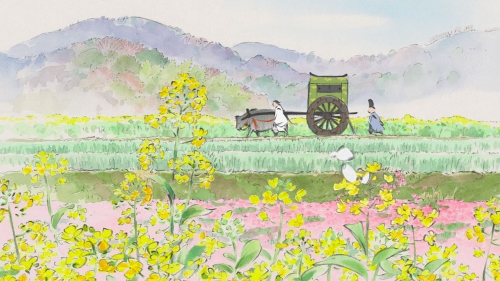 The Austin Film Society's "Art Horror" series is wrapping up appropriately here over Halloween weekend with Hausu, a 1977 Japanese horror film directed by Nobuhiko Obayshi. Screening this evening and again on Sunday afternoon in 35mm at the Marchesa, I can guarantee that you've never seen anything like it before. I suspect that this will attract a lot of people who have seen the movie many times before, but catching it on the big screen for the first time is something I can highly recommend. In a much different vein, Philippe Garrel's Jealousy is on the calendar for Sunday and Monday evenings. This new black-and-white French drama stars Philippe's son Louis Garrel. The latest "Essential Cinema" series spotlighting the work of Satyajit Ray comes to a close on Thursday night with 1979's Joi Baba Felunath (The Elephant God).
At the Alamo Drafthouse, John Carpenter's Halloween will screen late tonight at the Lakeline, Slaughter Lane and South Lamar locations. Alamo Ritz has Dark City, one of the finest sci-fi features of the 90s in 35mm on Sunday night, Luc Besson's The Fifth Element on Tuesday night and Clint Eastwood's Bronco Billy in 35mm on Wednesday night. New release Birdman (Mike's review) is also expanding this weekend to add the Lakeline and Slaughter Lane locations (adding to the Alamo South Lamar, Regal Arbor and Violet Crown, where the film continues).
The Alamo Slaughter Lane is having a one-time screening of the extended cut of Michel Gondry's Mood Indigo on Monday evening in advance of the film's release on home video. The international cut of the film was trimmed down to 94 minutes (Elizabeth's review), but this is the full 131-minute version that was screened in France. Both versions will be on the Blu-ray edition, but if you'd like to see it on the big screen, this is your only chance.
The Alamo South Lamar has Oscar-winning actor Timothy Hutton stopping by on Saturday night for a special screening of Ted Demme's Beautiful Girls along with a post-film Q&A. Drafthouse co-founder Tim League has curated a special mystery marathon on Sunday called East Meets Weird. You'll be watching "four looney Japanese classics" paired with a sneak preview of Sion Sono's new film Why Don't You Play In Hell, which is about to be released by Drafthouse Films. A handful of tickets are still available for this event which promises surprises and prizes throughout the day. 2005's V For Vendetta is also on the schedule at South Lamar this week. You can catch it on Wednesday night and all attendees will get a Guy Fawkes mask!
Cinema East and Stateside Independent are teaming up for the Austin premiere of Hide and Seek on Thursday night at the Stateside. Director Daniel Metz is a former Austinite and programmer for the Alamo Drafthouse who returns to town with this film that he produced, co-wrote and co-stars in. Metz will be on hand for a Q&A after the film which finds four friends who are interrupted while "partner-swapping" in a small British cottage. It's worth noting that the press release for the event warns that the film contains nudity and sexual situations. Now that we've sold a few extra tickets by throwing that in, you're welcome!
Finally, Christopher Nolan's Interstellar doesn't officially open until next weekend at the multiplexes, but it does start to appear at locations that can still screen film on Tuesday night. This includes the biggest screen in Texas, the Bob Bullock IMAX, where the movie makes its only area appearance on IMAX 15 perf/70mm film. The Alamo Ritz has a standard 70mm presentation that begins on Tuesday and then the Alamo Lakeline, South Lamar and Village locations, along with the Galaxy Highland will be showing the movie from 35mm prints starting Tuesday night. For more information on the different ways to watch the film, the official site has all the details.
Movies We've Seen
Horns - Daniel Radcliffe stars in this dark fantasy from Alexandre Aja (High Tension). Based on a cult novel by Joe Hill, this one mixes elements of black comedy and horror to tell the story of a young man who is accused of the rape and murder of his girlfriend. Jette saw it at Fantastic Fest and says "Radcliffe's demonic moments are delightful, but the ending is just terrible." (Alamo Village, also available on VOD)
Nightcrawler - This thriller is the directorial debut of Dan Gilroy, screenwriter of The Bourne Legacy. Starring Jake Gyllenhaal as a freelance journalist in Los Angeles, the film closed out Fantastic Fest this year to rave reviews. The film currently sits at an outrageously strong 96% on Rotten Tomatoes and I'll be back on Monday with a full review (wide)
The Tale Of Princess Kaguya (pictured above) - Based on a Japanese folktale known as "The Tale Of The Bamboo Cutter," this beautifully animated film is Isao Takahata's first feature since 1999's My Neighbors The Yamadas. Produced by Studio Ghibli, this also recently played at Fantastic Fest where it was Mike's favorite movie of the fest (Mike's review). You have two options to see the film locally: Alamo South Lamar will only be playing the original Japanese version with English subtitles while the Regal Arbor will screen the English dub (with voiceover work by Chloe Grace Moretz, Darren Criss, Lucy Lui and James Caan) for all matinee showtimes and the subtitled version for all evening screenings. (Alamo South Lamar, Regal Arbor)
Whiplash - Director Damien Chazelle won an award at Sundance in 2013 for his short film Whiplash that has now been adapated into this full-length feature film (which also won the audience and grand jury prize in the drama category at this year's Sundance). It stars Miles Teller (The Spectacular Now) as a jazz drumer who enrolls at a prestigious music school and is mentored by J.K. Simmons (Juno). Jette says "Simmons is absolutely amazing" but she had some difficulty with certain plot elements. Check back this weekend for her review. (Regal Arbor, Violet Crown Cinema - expands next weekend)
Also Opening In Austin
The ABCs Of Death 2 - I don't know if this can be as awful as the first film, but I can't imagine a more unnecessary sequel. (Alamo South Lamar, 1 late show/day, also available on VOD)
Before I Go To Sleep - The Railway Man co-stars Nicole Kidman and Colin Firth team up again in this British thriller from upstart distributor Clarius Entertainment. The reviews have been pretty mixed and it kind of looks like something that just a few years ago would have gone straight to video. A lack of new releases may help this one find a small audience this weekend, but it'll fade fast. (wide)
Saw (10th Anniversary Reissue) - Without a lot of competition in the marketplace, Lionsgate has decided to celebrate the torture porn that started it all. It's hard to believe it's only been a decade since Saw unleashed a million knockoffs. Now, for one week only, it's back in theaters. At least that's more honest than releasing yet another awful sequel. (wide)