Ready, Set, Fund: Be a Patron, Support the Apocalypse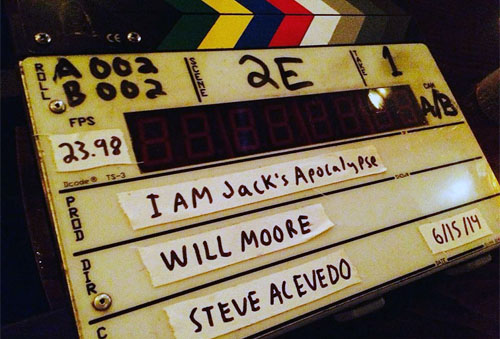 Ready, Set, Fund is a column about crowdfunding and fundraising endeavors related to Austin and Texas independent film projects.
We all have the habit of saying "Kickstarter campaign" as a generic term for crowdfunding, but of course that's not the only site that hosts these types of project. I don't just mean Indiegogo either. In the past, this column has highlighted Austin projects from United States Artists (Computer Chess being the one I remember) and Seed&Spark. (I particularly like United States Artists because it's curated -- no one is raising money for potato salad there.)
This month, I found a new platform (via Bryan Poyser, thanks!) called Patreon. Patreon has a slightly different model, focusing on campaigns for projects with recurring needs, like web series, blogs and podcasts. The donors -- called "patrons" -- support these projects through recurring gifts that correspond with each episode in a series, for example. Instead of giving $25 (or $250 if you're flush), you might give $5 per podcast, or $1 per blog post.
Recurring gifts are a big staple of traditional nonprofit campaigns, so finding a way to do that with artistic crowdfunding is pretty smart. It keeps donors invested in the project, and I think it will strengthen projects in the long term with a steady source of income.
The first Austin film project I've found on Patreon is from Mike Akel (Jordan's 2012 interview), whose features Chalk and An Ordinary Family both played Austin Film Festival. His company New Sky Pictures is soliciting funds for a comedy web series called Mr. Ginger, about a Life Skills teacher. Akel plays the title character, and the cast includes Luke Loftin, one of the filmmaker/stars of the hilariously offensive movie Bindlestiffs, which Akel produced.
You can watch the pilot episode on the Patreon site (or embedded below) for free; donating to the campaign gives you access to subsequent episodes, scheduled at two per month. Larger pledges net you extra perks like DVDs and the ability to be an extra on the show.
Returning to our old friend Kickstarter, Austin filmmaker Will Moore (my 2012 interview) has an intriguing project in the works. I really enjoyed his previous feature, Satellite of Love (my review), which screened at Dallas IFF, the Hill Country Film Festival and AFF. Now he's seeking post-production funds for his latest movie, I Am Jack's Apocalypse. The psychological thriller is about an addict (David Maldonado) who is suddenly saddled with his sister-in-law and niece as the apocalypse looms. It's already in production. Cast members include Jamie Tisdale (From Dusk Till Dawn TV series) Tishuan Scott (The Retrieval) and Chad Mathews, director of the Hill Country Film Festival and a filmmaker himself (Love Sick Lonnie).
Perks for the campaign include an online preview screening, DVDs of Satellite of Love (you know I can't resist that myself) and dinner with the producers. Also, the film slate (pictured at top), which strikes me as a pretty cool prize I'm surprised I haven't seen on other campaigns. Here's the campaign video:
While we're talking about crowdfunding platforms, Indiegogo recently made the news. The company has dealt with an incident of fraud on its site by ... removing its guarantee to find and deal with fraudulent campaigns. Only campaigns that are flagged will be investigated. But if you're going to donate to crowdfunding campaigns, you have to stop and think about how realistic they are anyway. The filmmaking campaigns we highlight in this column have a great track record (at some point we really should do a retrospective to show you), but, you know, if you give to campaigns to build a time machine or to send you a bite of highly perishable food, lower your expectations.
On that note -- okay, really because I wanted any excuse to share this -- here's the "Kickstarter Film Awards" sketch from Portlandia (hosted by Gus Van Sant!):
Other Austin and Texas film-related crowdfunding campaigns:
Pact -- You have only about a day left to help with production costs on this short film set in the future, where overpopulation leads to a group of volunteers who agree to die to save the world. Filmmaker Zach Endres is a former Austin Film Society intern (who wrote a coupleof articles for us), whose short The Teleported Man screened at AFF 2012 (Debbie's review). Perks include a poem written especially for you. (Kickstarter, ends 7/18 at 5:50 pm)
Transplant Games: A Documentary -- Last week, the Transplant Games were held in Houston -- this campaign is the first I've heard about the Olympic-style athletic competitions for organ transplant recipients. Cressandra Thibodeaux -- whose previous credits include Spamarama the Movie -- is shooting a documentary that focuses on five participants, and needs money to pay the crew needed to cover such an event in detail. (She's also the executive director of 14 Pews theater in Houston.) (Kickstarter, ends 7/31)
Last of the Longnecks -- No, Debbie, it's not about beer. New Braunfels filmmaker Ashley Scott Davison is working on a documentary about giraffe conservation. Visit the campaign page to find out how she got involved in this topic -- it's a great story. It's an ambitious campaign ($100K), and the funds will help pay for the crew to travel to Africa this fall to finish the film's research and interviews. Give enough money and you get personalized postcards from the crew on each of their Africa stops. (Kickstarter, ends 8/16)
Have a project that you would like to be considered for an upcoming Ready, Set, Fund column? Contact us with the subject line "Ready, Set, Fund."