AFF 2012 Interview: Will Moore, 'Satellite of Love'
I saw Satellite of Love at Dallas International Film Festival earlier this year, and it was easily the loveliest movie I caught at the fest. It's set primarily in a vineyard, and the opening sequence takes place at a fair with some gorgeous shots on a Ferris wheel. In addition, the film is a poignant look at the complexity of intimate relationships, with excellent performances from Zachary Knighton and Nathan Phillips in particular. I reviewed the movie and wondered when we'd get to see it here in Austin.
Fortunately, Satellite of Love is in the Austin Film Festival lineup, and you have one more chance to see it -- tonight at 7 pm at the Rollins Theater at the Long Center. What were you planning to do tonight? Don't do that, see this movie instead. It really shines on a big screen, and director/co-writer Will James Moore will be there.
I interviewed Moore via email about the movie -- his responses are below.
Slackerwood: Can you give us the 25-word summary/pitch of the film?
Will Moore: Catherine is married to Blake, a restaurant-owning workaholic, and from the outset it is easy to see that there is a lack of passion in their relationship. Worldly musician Samuel, a former lover of Catherine and best friend to Blake, invites the couple to a vineyard for a week to make up for his absence at their wedding.
Satellite of Love takes a look at the choices we face when reaching adulthood; the path of responsibility and perceived security vs. a decision to remain carefree and not settle down. The film does not make a decision if one life choice is better than the other; rather Satellite of Love examines how these choices affect each character in the film. Satellite of Love also takes an honest look at monogamy and how it pertains to the choices each of these characters have made.
What's the significance of the title?
Moore: The idea for Satellite of Love had been in my head for about a week and one morning I woke up and I was singing the Lou Reed song, Satellite of Love, over and over again. I thought, "That's inspired," so Satellite of Love became the working title.
What's one thing about this film that is going to make it impossible for people to resist seeing it at AFF?
Moore: We are giving away a car at both screenings. Seriously, two lucky people will drive away in a new Kia (DISCLAMER: will not be giving away a car at either screening).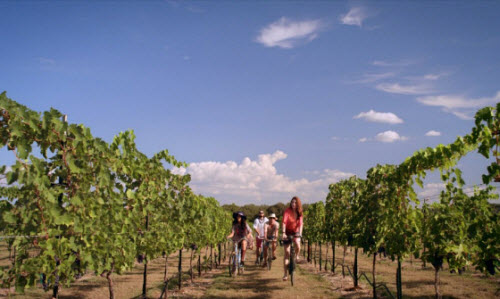 I really like the music in this movie. Who worked on it and how was it developed?
Moore: Jonathan Case (the co-writer) was the music supervisor and he also has a few songs in the film. I told him and Mike Lutz (producer) that I wanted a soundtrack early on so they started sending me music while we were still writing the script. I probably listened to no less than a thousand songs over the course of about a year and a half. And I think for every song that ended up in the film I had that, "Oh yeah, this is it, this is the right song for this scene" moment. It was a very organic process.
Are there any locations in the film that will seem familiar to Austinites? If so, what are they?
Moore: Justine's is a great French restaurant in east Austin that I think a lot of people will recognize. Flipnotics, Lake Travis, and the Reuter House in Travis Heights are all local spots that I think Austinites will recognize. Possibly Duchman vineyard.
What are your future plans for the movie?
Moore: We are approaching the end of our festival run in the states. The film will be released in early 2013 around Valentine's Day by FilmBuff. I would also like to do an international festival run in 2013. I think Satellite of Love will play well in Europe.
What are you planning to work on next?
Moore: I have three projects that I am currently developing. The goal is to shoot something by the end of next year.
Here's the trailer, to further tempt you to tonight's AFF screening:
[Photo credit: Photo of Will Moore and still from Satellite of Love shamelessly swiped from the film's Facebook page. Photographer unknown.]