Lone Star Cinema: Satellite of Love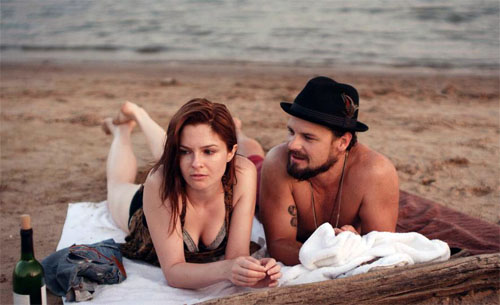 Usually, Lone Star Cinema focuses on a movie that you can watch on DVD, VOD and/or online. The idea is in fact to tell you about its availability as well as its local or Texas connections, so you can take another look at the film and perhaps find more enjoyment by noticing that hey, that's the old Governor's Mansion and that's the Astrodome and that's a young Sonny Carl Davis.
But this time I want to write about a movie you can't see, not yet, and have only been able to catch at a few festivals. I caught Satellite of Love at Dallas International Film Festival in March, and I didn't have the time to write fully about it then, and figured a little summary in a dispatch would be sufficient. But it screened again at the Hill Country Film Festival, and by that point I realized the movie was stubbornly stuck in my head and demanded a review, so I got a screener from director Will James Moore to refresh my memory. And it turns out that yes, Satellite of Love was still delightful on a second viewing.
The movie opens at a small carnival, with three friends on a Ferris wheel: Samuel (Nathan Phillips), Blake (Zachary Knighton) and Catherine (Shannon Lucio). It's obvious that all three of them are very close friends -- probably more than just friends -- and what is going to happen to them once they get off that Ferris wheel? The movie then moves into the future, in which Blake and Catherine are newlyweds running a very busy restaurant, with Blake as chef-owner. Samuel has been out of the country, pursuing a musical career, and returns home after finding his friends' wedding invitation.
Samuel convinces Blake and Catherine to join him for a week's vacation at a vineyard retreat owned by an absent friend. They're joined by Samuel's current girlfriend, the free-spirited European deejay Michelle (Janina Gavankar). Samuel says he owes it to them for missing their wedding, but it's easy to speculate that there might be other motivations. And it's very easy to see that Samuel is still carrying a torch for Catherine.
Satellite of Love is what film critics like to call "deliberately paced," a term that many people interpret as "slow" and unfortunately for them, then equate with "boring." This movie takes its time, letting you get to know the characters, letting you soak up the gorgeous setting just as the characters do. It reminded me a great deal of Jules and Jim -- which I suspect is intentional, especially considering the female lead character's name -- and for some reason, L'Atalante. If you think those films are boring, then this is not the movie for you. It's often light and breezy, with a happy lack of melodrama considering the romantic-triangle story.
The movie is beautifully shot, especially that opening sequence on the Ferris wheel, which makes a small-town carnival ride look far more delicate and lovely than you could imagine. Seeing it a second time on the screener, I do feel a DVD does not do Satellite of Love justice. I hope it will screen in a theater at least in Austin, one way or another, because the locations have much more impact on the big screen. The film's music is also lovely and appropriate -- co-writer Jonathan Case was the music supervisor and a few of his songs are on the soundtrack.
Phillips has perhaps the showiest role as Samuel, the prime mover and shaker in the film, and pulls it off note-perfect. But Knighton has a tougher job -- making the practical work-driven Blake someone you can like, and can understand why Catherine would marry. Lucio complements them both and together, all three make a trio that I wished could find a way to stick together, spending the rest of their days in a vineyard B&B providing beautiful food and music and wine to all visitors, and managing their private romantic life satisfactorily. But life doesn't work that way, and the characters know it.
This is the paragraph where I normally would tell you how to see the movie profiled n Lone Star Cinema. But as I've said, Satellite of Love does not yet have distribution, nor any further fest screenings scheduled in Texas. I'm hoping that situation will change, and when it does, I'll tell you about it immediately.
Austin connections: Satellite of Love was shot in Austin and at a private vineyard/residence in Central Texas. The restaurant Blake owns is in fact Justine's. Most of the cast and crew live in Austin. Local actor/filmmaker/philanthropist Turk Pipkin appears in one scene as a nearby vineyard owner, and Hill Country Film Festival director/filmmaker/actor Chad Mathews also has a small role.