Movies This Week: July 18-24, 2014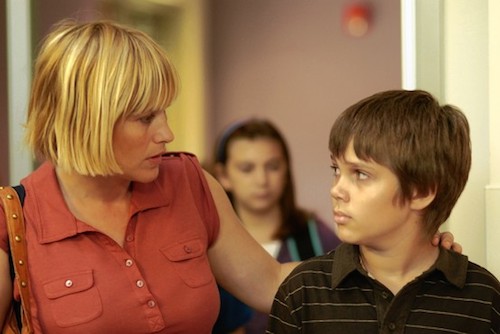 Over the next week, your only real duty as a film lover is to see Richard Linklater's Boyhood. Yes, it's almost three hours long. Yes, the reviews are mindblowingly great. Yes, it's the real deal. I attended last weekend's Austin Film Society Q&A screening with Linklater, Patricia Arquette and Ellar Coltrane in attendance and I'm definitely ready to see it again. It's that good.
Speaking of special screenings, AFS is bringing the SXSW hit Road To Austin (Mike's review) to the Marchesa tonight. The documentary examines how Austin became the "Live Music Capital Of The World" and features live performance footage from Kris Kristofferson, Bonnie Raitt, Delbert McClinton, Joe Ely and over 40 other artists. If that sounds up your alley, so will the Sunday afternoon screening of Tommy Hancock: West Texas Muse. Following the leader of West Texas's premiere western swing band, the film features many Texas musicians including Jimmie Dale Gilmore, Joe Ely and Lloyd Maines. Hancock lives in Austin and will be on hand for a Q&A. Thursday night's Essential Cinema brings us Ingmar Bergman's 1973 masterpiece Scenes From A Marriage. This screening will be the 169-minute theatrical version, although if you go and really enjoy it, you should track down the 295-minute television miniseries version as originally aired in Sweden.
Alamo Drafthouse Ritz has a lot of great music programming on tap again as part of this month's "The Alamo Goes To '11" feature. A new digital restoration of Stop Making Sense plays twice Saturday, with Wattstax in the mix on Saturday and Sunday afternoons and a sneak preview of the new Nick Cave documentary 20,000 Days On Earth. That is sold out at the Ritz on Sunday, but also plays at the Village and Slaughter Lane locations that afternoon, and tickets are still left at the Ritz for Music Monday. A 35mm print of John Woo's extraordinarily violent Hard Boiled screens at the Ritz on Sunday night for Tough Guy Cinema and The Complete David Lynch series enters its fourth week with a handful of Blue Velvet screenings in 35mm.
Tonight and tomorrow night, Alamo Village will host late-night screenings of a brand new 40th anniversary restoration of Tobe Hooper's The Texas Chainsaw Massacre. Meanwhile, Alamo Lakeline has picked up two weekend screenings of Life Itself (Jette's review) on Saturday and Sunday evening, and is also adding one showing a night of Obvious Child, one of the year's most hysterical films. It's still playing at the Regal Arbor, but you're probably heading into your final days to catch it theatrically.
More great choices abound thanks to the Paramount Summer Classic Film Series. Robert Osborne from Turner Classic Movies will be at the Paramount on Sunday to present Dodsworth, a 1936 film directed by William Wyler starring Walter Huston, Ruth Chatterton, Paul Lukas, Mary Astor and David Niven. Monday and Tuesday, the Paramount will host a double feature of Mildred Pierce and Cat People while the Stateside goes Spaghetti Western with The Good, The Bad, and the Ugly. On Wednesday and Thursday nights, Barbara Streisand fans can rejoice with a 35mm double feature of The Way We Were and Funny Girl at the Paramount while the Stateside goes a little more contemporary with Crumb and Dark City on Thursday.
Movies We've Seen
Boyhood - Austin filmmaker Richard Linklater has crafted an emotionally resonant portrait of a young man's journey from first grade through high-school graduation. Newcomer Ellar Coltrane shines in his role as Mason and literally grows up onscreen before our eyes, but Patricia Arquette and Ethan Hawke are also very powerful in their roles as his divorced parents and all the drama that goes with that. Don has our review and he didn't even name it the year's best film, he said it's "one of the best films ever made." It's not hyperbole, it's absolutely true. This is an honest, heartbreaking, heartwarming film with relatable themes and characters. Many screenings this weekend are going to be sold out. Be patient and don't miss it. (Alamo Slaughter Lane, Regal Arbor, Violet Crown Cinema)
Sex Tape - Director Jake Kasdan delivers another raunchy Cameron Diaz comedy, this time around pairing her with Jason Segel. The couple decide to spice up their sex life by making a private recording of themselves attempting to duplicate the poses in the Kama Sutra, but end up sending it to everybody they know when it's uploaded "to the cloud." The entire premise is ridiculous, but is it funny? Elizabeth says in her review, "Diaz and Segel are game for whatever the script throws them, be it equal-opportunity nudity, physical comedy or acting frazzled on coke."(wide)
Also Opening In Austin
Planes: Fire and Rescue - Planes was a a spin-off of Pixar's Cars, but it was not a Pixar film. No, the original film and this new sequel are from Walt Disney Studios directly and, in terms of quality, that is an important distinction. The target audience will probably be thrilled, even if mom and dad might be a little less excited. If your kids are obsessed with fire trucks, the Austin Fire Department will out at the Alamo Lakeline and Alamo Slaughter Lane tomorrow morning at 9 am for a Junior Firefighter party with trucks and real firefighters in attendance. All the kids get a hat and toy plane before they "stop, drop and roll into the theater to watch the movie" (in 2D). (wide, available in 2D and 3D screenings)
The Purge: Anarchy - Another graphically violent horror sequel with middling reviews? Sounds about right for mid-July. [Jette says, go see Snowpiercer instead.] (wide)