Review: Life Itself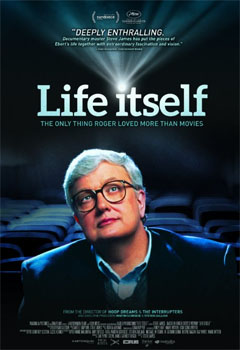 The documentary Life Itself, currently in theaters and on VOD outlets, is a valentine to its subject -- the late Roger Ebert -- but avoids oversentimentality or blind hero-worship. Steve James deftly balances a biography of the film critic and author with a moving look at his last days.
James is a little more present as a narrator in this documentary than in his other films (Hoop Dreams, Reel Paradise), explaining the situation surrounding the most contemporary footage. He and Ebert planned an ambitious series of interviews and other location shooting, but Ebert was hospitalized and both his time and energy became more limited. James works capably with what he can get -- a few meetings in the hospital, questions emailed one at a time. Watching Ebert as he struggles to get through each day is heartbreaking.
The shots of what we know are Ebert's last days are interspersed with a generally linear biography of his life, told through archival footage, interviews with friends and colleagues, and excerpts from Ebert's 2011 autobiography, also called Life Itself. The excerpts are read by an actor who successfully catches the rhythms of Ebert's voice, which is disconcerting. Also, the movie didn't make it clear that the chapter-titled segments were book excerpts, which is slightly confusing if you didn't realize it going in.
In addition, James interviews family members -- Chaz Ebert and their grandchildren, old friends and colleagues, and a number of filmmakers who were close to Ebert. The interviews are beautifully realized, emotional and complementary to the sequences in which they appear.
This is the paragraph where I, like everyone else reviewing Life Itself, am supposed to tell you my big moving Roger Ebert story -- that one time I met him, or wrote him, or how his TV shows made me want to review movies, or how the indie films he spotlighted broadened my horizons and changed my life.
But I don't have a story like that. If you'd asked me before I saw the documentary, I would have told you that Ebert was not a big influence on my life, although I have always enjoyed reading his reviews and my family regularly watched the Siskel and Ebert shows. He would not have been on the shortlist I usually mention.
Life Itself proved me wrong. Ebert's effect on not just film criticism but filmmaking and film appreciation is extremely significant, for all of us. Errol Morris points out that his first feature, Gates of Heaven, was promoted by Siskel and Ebert's show multiple times -- if not for that attention, his filmmaking career might have dried up right there. Ramin Bahrani has a similar story about Man Push Cart. Hell, Martin Scorsese has a story about the critic helping revitalize his career in the 1980s. Highlighting indies on the show didn't just affect filmmakers but also the audience -- we got to hear about movies that weren't the ones we would make a beeline for at the multiplex. How else would a New Orleans girl find out about movies that screened only in New York and LA?
I was sorry the documentary didn't mention more about Ebert's mentoring of younger online film critics in his later years, although the movie clocks in at nearly two hours already and couldn't cover everything. In my Dawn of the Planet of the Apes review, I joke about the rules for writing movie reviews -- and while I was compiling that list, I ran it up against "Roger's little rule book," which I have found invaluable since 2008. But Ebert also demonstrated that you can break certain rules if it helps you succeed in captivating your audience.
Life Itself had its flaws -- the sequence about Ebert's bar-hopping years felt too long, and the changes in "voice" (Ebert before surgery, the actor, the computer-generated voice) took some getting used to. And while I did find it captivating, it's a very "now" movie (kind of like Beyond the Valley of the Dolls in that respect). I wonder how well it will hold up in 20 years -- if audiences who did not grow up watching Ebert or reading his blog or following him on Twitter will be able to understand not just why he was important and influencial, but why he was so beloved. In this moment, however, for today's audiences, it is a fitting portait.