Review: Sex Tape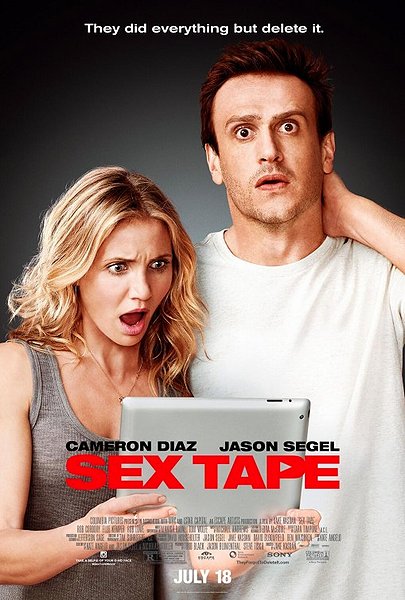 Sex Tape, a goofy new movie from director Jake Kasdan (Bad Teacher), teams Cameron Diaz and Jason Segel up again. This time, they're married parents longing for the actively passionate days of their nascent romance. The film opens with narration from mommy-blogger Annie (Diaz), who laments the loss of time and energy for sex with her husband Jay (Segel).
Hoping to shake things up, Annie suggests they make a sex tape for themselves using Jay's new iPad. And thus the trouble begins. Jay uses an app called Frankensync that syncs media on any iPad/laptop he's owned (if you're wondering, GQ checked with AppleCare and nope, it's not possible). The whole plot hinging on this fictional tech is laugh-out-loud preposterous, so Segel and Diaz deserve some credit for making it seem even slightly plausible.
The couple tries to delete the video from any iPads they've passed on to others. Their ridiculous romp leads them to the home of their best friends (Rob Corddry and Ellie Kemper) and to the mansion of the prospective buyer of Annie's blog (Rob Lowe, whose character is like Chris Traeger from Parks and Recreation, if he did coke and loved Eazy-E).
Diaz and Segel are game for whatever the script throws them, be it equal-opportunity nudity, physical comedy or acting frazzled on cocaine. There are a few sappy minutes involving a Jack Black cameo, but until that point, Sex Tape is continuously hilarious.
While watching the movie, I found the character of Annie as performed by Diaz to be refreshing -- she's not depicted as a harpy housewife. She's upfront about her sexual desires, is a beautiful goof and is working toward making money from her writing. She's not a sidekick but a full-fledged character. The more I think about Annie afterward, though, the more I wonder whether the character might lean a little too closely towards the cool girl type.
It is also hard to believe that this family could live in middle-class suburbia off only Jay's wages (he works in radio as a DJ? or station manager? It's unclear). But despite this -- and the other improbabilities of Sex Tape -- Segel and Diaz pull off a believable relationship and their shenanigans are fun to witness. In short: I laughed a whole lot throughout the movie.