Movies This Week: March 28-April 3, 2014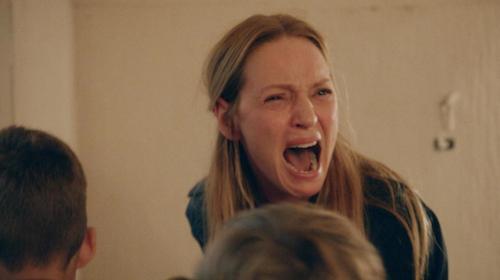 The Austin Film Society will begin a series this weekend spotlighting the best in New Romanian Cinema with Child's Pose, which won the Golden Bear for best film at last year's Berlin Film Festival. The film stars Luminita Gheorghiu (4 Months, 3 Weeks and 2 Days) and plays tonight and again Sunday afternoon at the Marchesa.
Meanwhile, Richard Linklater's incredible Jewels In The Wasteland series continues this week with Godard's Every Man For Himself on Wednesday night. Linklater will introduce the film and lead an audience discussion after the screening.
On Monday night, Tiger Tail In Blue is screening at the Marchesa thanks to AFS. Local filmmaker Andrew Bujalski will moderate a post-film Skype Q&A with director and lead actor Frank Ross. The indie film was nominated for a Gotham Award for "Best Film Not Playing at a Theater Near You" and we're lucky to have a theater to bring movies like this to town.
The Alamo Drafthouse Ritz is launching their new Complete Marx Brothers retrospective this weekend with 1929's The Cocoanuts. They'll be doing this every Saturday afternoon for the next few months! They'll also be paying tribute to the late Mike Vraney of Something Weird Video on Saturday with That's Sexploitation! and a marathon of rare 35mm titles they're dubbing The Weird World Of Weird. A portion of the proceeds will be donated to the Lung Cancer Alliance in Mike's name.
A brand new 4K digital restoration of William Friedkin's Sorcerer begins at the Ritz this weekend. It has select showtimes from this afternoon through Thursday. The Alamo is also teaming up with The Harry Ransom Center for a new series called "From Script to Screen: Four Films Written by David Mamet." It kicks off on Tuesday night with a 35mm presentation of The Verdict starring Paul Newman.
We also wanted to be sure to mention a special fundraiser going on at the Violet Crown Cinema. One of their employees, Evan West, was one of the victims of the tragic accident that occured during SXSW. Evan's wife Jamie was killed in the accident and he's been in the hospital since March 13. Violet Crown will be donating 20% of all ticket, food and beverage and concession sales from today through Thursday, April 3 to a fund to assist Evan throughout his recovery.
In addition to the new releases listed below, Wes Anderson's The Grand Budapest Hotel (Don's review) is continuing to ramp up its box-office take and it expands wider this weekend to more Austin theaters. Also, Veronica Mars (Elizabeth's review) has left the AMC Barton Creek and moves to the Alamo Lakeline for late shows only over the next week. If you want to catch it on the big screen, this is your last chance!
Movies We've Seen
Cesar Chavez - Better known as an actor in films like Y Tu Mama Tambien and Milk, Diego Luna steps behind the camera to direct this biopic about the famed civil rights leader and labor organizer. Don caught the film during SXSW and his review calls the film "heartfelt and deeply moving, a great tribute to Chavez and the movement he led." (wide; AMC Barton Creek and Cinemark Tinseltown North are also offering select showtimes of the film dubbed in Spanish)
Nymphomaniac: Vol. I (pictured above) - The first installment of Lars Von Trier's sexually explicit epic opens this weekend. It's incredibly well-acted and compelling, but the very nature of its content will probably lead many who are curious about it to want to watch it from the comfort of home. It plays fine on VOD, but the film's widescreen framing is far better suited for the big screen. It's an ambitious and provocative film, or at least half of one. Volume II will be released locally in a few weeks. For more information on Volume I, my review is posted now. (Alamo Slaughter Lane, Violet Crown Cinema, also available on VOD)
Teenage - Director Matt Wolf brings us a "glossy video collage about the growth of youth culture in the early to mid-20th century" in this acclaimed documentary inspired by Jon Savage's book. With a score by Deerhunter's Bradford Cox, archival material is blended with diary entries read by the likes of Jena Malone and Ben Whishaw. Elizabeth has our review. (Regal Arbor)
Also Opening In Austin
The Lunchbox - Sony Pictures Classics have a pretty good grasp on what foreign titles will click with domestic audiences. This crowdpleasing romantic comedy from India is the debut feature film from director Ritesh Batra. (Regal Arbor)
Noah - It's surprising that Paramount is promoting Darren Aronofsky's biblical epic as being "from the director of Black Swan," but that also indicates the uphill battle the studio has had at trying to balance promoting this to a faith-based audience while appealing to a more mainstream crowd at the same time. The studio declined to screen the film locally for press, but the response from those have seen it is generally positive. (wide; also available in digital IMAX at AMC Barton Creek and Regal Gateway, and D-Box Motion Seating at Galaxy Highland)