SXSW Review: Cesar Chavez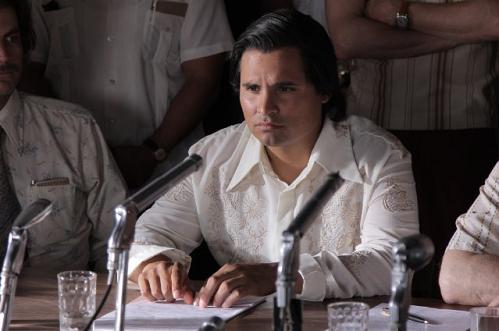 Sí, se puede.
A wildly enthusiastic crowd chanted this Spanish slogan, meaning "Yes, it can be done" or "Yes, you can," after the SXSW screening of Cesar Chavez at the Paramount Theatre. In a testament to the film's inspirational power, the post-screening Q&A wasn't a Q&A at all -- it was a rally led by longtime labor activist Dolores Huerta, several cast members and Chavez's youngest son, Paul.
It's not surprising that Cesar Chavez inspired the impromptu celebration of Chavez's legacy. The film is heartfelt and deeply moving, a great tribute to Chavez and the movement he led.
Diego Luna's biopic of the exalted labor leader is tightly focused, following Chavez (Michael Peña) and his family from their move to Delano, California in 1962, the year Chavez co-founded the National Farm Workers Association (later called the United Farm Workers), until the end of the union's successful grape boycott in the early 1970s. Cesar Chavez centers on Chavez and his wife, Helen (America Ferrera), as they struggle to raise eight children while fighting for farm workers' rights. But the movie is as much about the movement as it is about the man.
Cesar Chavez shows Cesar and Helen Chavez, along with their fellow activists, suffering greatly for their cause. The film explores their struggle in intimate and sympathetic detail, showing us the physical and psychological toll of years of exhausting work, constant threats to their safety, arrests, beatings and demoralizing defeats. As the spokesman for the movement, Cesar bears the brunt of it all: dangerous confrontations with angry farm owners, intimidation from racist cops, arrests on specious charges, wearying, endless days leading a vast union, and even a 25-day hunger strike to show his commitment to the cause.
Helen suffers no less. She's arrested -- albeit intentionally -- for violating a ridiculous ban on saying huelga ("strike") in the presence of farm workers. And while working tirelessly for the labor movement, she also cares for eight children, often with little help from her frequently absent husband. Cesar's grueling job isn't family friendly; throughout Cesar Chavez, we see Helen's admiration for his passion but frustration at his detachment from his kids. (Cesar's detachment, along with racist bullying at school, drives one of his sons to leave home and move in with his grandparents.)
Cesar and Helen's hardships are, of course, metaphors for the greater suffering they want to end. Interwoven with scenes of family strife are just as many scenes of striking workers, marches and the thankless daily grind of farm labor, as beaten-down workers wear out their bodies for a few dollars a day. Cesar Chavez makes this connection brilliantly; we know that when Cesar takes a punch, he's taking it for farm workers everywhere.
Surprisingly, the film also presents the other side of the farm labor issue, and not entirely unsympathetically. Most of the labor movement's enemies are the expected racists and corporate greedheads; Cesar's nemeses are embodied in Sheriff Galen (Michael Cudlitz), a standard-issue racist law enforcement official who bullies the union at every turn.
But a far more complex foil is Bogdanovitch (John Malkovich), a vineyard owner who grew up in poverty and sympathizes, if only privately and hesitantly, with the workers' plight. He built his vineyard business through his own sweat and sacrifice, and wants it to be his legacy -- but while he's outwardly gruff and callous toward the workers who keep him in business, he does understand their desire for living wages, safe working conditions and a shred of dignity.
Cesar Chavez takes a great risk with this character; audiences might be hostile toward a film that celebrates Cesar Chavez while at the same time humanizing one of his enemies. But Bogdanovitch adds an interesting dimension to the film; without him, it risks being dismissed as hagiographical and biased.
As we would expect from the talented Luna and his equally talented cast, everything in Cesar Chavez works terrifically. The film looks and feels as gritty as its subject, from its slightly grainy cinematography to its low-budget indie sensibilities (although it's hardly a low-budget film) to the actors' unglamorous looks. (Activism -- especially Chavez's brand of it -- is a sweaty, dirty, exhausting business, and the pay is lousy. Everyone in the film looks very much an activist.)
The film's attitude toward its hero is just right: reverent, but not blindly so. And the acting is universally great, from Peña's imperfect Cesar to Cudlitz's macho sheriff and Rosario Dawson's tirelessly dedicated Dolores Huerta. (At 83, Huerta is still tirelessly dedicated. She led the rally at the Paramount Theater like she's 23.)
Cesar Chavez (which played only once during the festival) is not just a great movie -- it's an important one. Luna asked the SXSW screening audience to promote not only the film, but also its message of using nonviolent means to fight for justice and equality. A noble message indeed, and Cesar Chavez is a film that celebrates it -- and the people who dedicate their lives to it -- in the best possible way. Sí, se puede.


Lionsgate has a limited theatrical release planned for Cesar Chavez starting March 28. We have no info yet about when/if it will screen again in Austin.