Review: Veronica Mars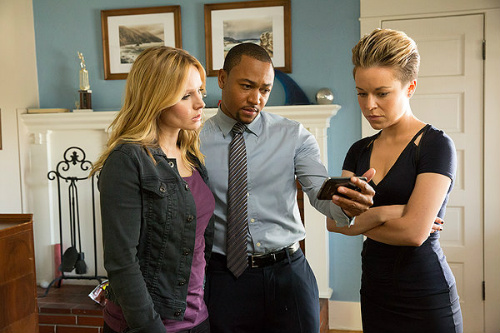 A long time ago, or so it seems to fans of the show, teen detective drama Veronica Mars was cancelled. Since its somewhat abrupt end, the series has grown a larger cult following through people introduced to the show via subscribed streaming services (raises hand) or DVD sets borrowed from friends (the case for my sister). The question high on the mind of these dedicated watchers: When will we get a movie?
Thanks to a highly successful Kickstarter campaign, this weekend the film is being released. Veronica Mars will simultaneously open in select theatres at the same time that digital copies are available for purchase. The film, from Austin director/showrunner Rob Thomas, will be the first to be released in such a fashion. It is apt that this film, funded partially through new media, be the selected title to test this out.
Guided by the exuberant response from fans, Thomas included familiar faces we know and love in the cast, led by Kristen Bell in her lead role as Veronica. It has been 10 years since she graduated from Neptune High. Veronica has moved to NYC to complete law school and hook up again with college boyfriend Piz (Chris Lowell), who now works in public radio with Ira Glass (of course he does!). Former love Logan (Jason Dohring) calls her back to her California hometown to help him fight a murder rap.
The chemistry between Bell and Dohring's characters still flares up, although their attraction seems to have cooled a smidge over the years. The relationship between Veronica and her PI dad (Enrico Colantoni), however, seems as tight as ever. As one expects from the mind behind the show (Thomas co-wrote the screenplay with show producer Diane Ruggiero), the wit and smartassery are aplenty.
I can't speak to how Veronica Mars will play for someone unfamiliar with the series, but there is a recap at the start of the film. I think any fan of the show will appreciate this drama. The core mystery is full of twists and turns, and Thomas plays with dark and light in both lighting and plot.
So many characters from the series return and Veronica has to run into them all -- as a result, friends like Mac (Tina Majorino) and Wallace (Percy Daggs III) don't get as much screen time as I would have liked. Still, it's exciting to see the old crew back together and to witness how kick-ass a character Veronica still is.
Austin connections: Rob Thomas is an Austin native.
Somewhat related note: The highlight of my SXSW this year was running into Kristen Bell in the balcony area of the Paramount before the Veronica Mars premiere. I didn't say anything and just grinned like a fool.