SXSW 2014: Meet the Slackerwood Gang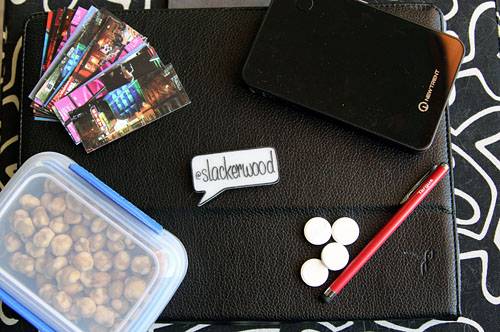 I'm leaving the house in one hour (I hope) to head downtown for SXSW. I've got my tablet, my roasted chickpeas, my auxiliary battery ... and yeah, my antacids. Welcome to the wussy side of SXSW filmgoing.
I'm kicking off the fest by participating in the panel "A Beginners Guide to SXSW Film" at 2 pm in room 16AB of the Austin Convention Center. If you're down there, why not join us? You can ask questions or even offer advice of your own.
The other panelists will be film producer Kelly Williams (Hellion), Austin Chronicle Managing Editor Kimberley Jones, Film School Rejects editor Neil Miller, and filmgoer extraordinaire/Fantastic Fest programmer Brian Kelley. So this should be a hoot as well as very informative.
If you can't attend the panel and are seeking guidance, check out the Slackerwood guide to SXSW theaters and our guide for locals and wristband holders. In fact, check out all our SXSW articles since we have previews and interviews with local and Texas filmmakers.
I also recommend the "SXSW 2014: Do it Like a Local" video from Flow Nonfiction. This is their third guide and they're always fun and have off-the-beaten-path tips. The hosts include Kim Jones (in case you miss her today) and filmmaker David Modigliani, who was on the "Beginners" panel last year and is great fun. Here it is:
We didn't do a dining guide this year but Matthew Odam at the Austin American-Statesman has your back with this excellent article about eating at SXSW for under $40/day for five days. I haven't been to half these places and -- well, maybe you all shouldn't read the article, so those places won't be too crowded when I try them.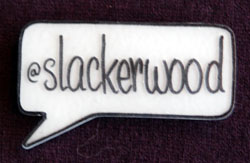 The Slackerwood gang will be out and about during SXSW this year -- we've got a bigger and better team than ever this year. Many of us will be wearing these little pins or necklaces with our Twitter handle, shown at right, so you can spot us immediately. Many thanks to Jennifer Cunningham of Jen Hearts Art for making these for us, they are adorable and awesome.
If you run into any of us, stop and say hello! (And see if we have any of our super-cool Moo cards to give you.)
Have a fun fest, and I hope to see many of you there! Now, where did I put my stack of Moo cards?