SXSW 2014 Guides: Wristband Info and Tips for Locals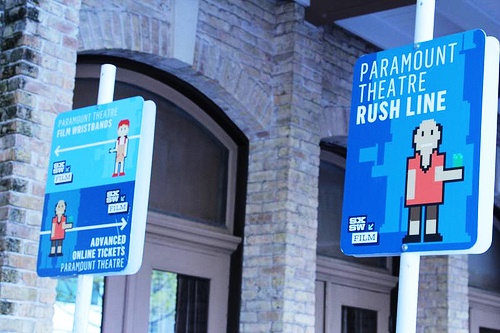 Paying big bucks for a badge isn't the only way to be a part of the SXSW Film Festival. For locals willing to forego lanyards and the feeling of being first in line, the wristband is another option -- often a good one, but one that requires a little more creative planning and patience.
Sold for $80 at various venues around town -- $75 at the Marchesa before any Austin Film Society event if you're an AFS member-- the wristband (known as the Film Pass before last year) grants access to any film shown during the festival, provided there is space available after badgeholders (Platinum, Film and Gold) have been seated. This means smaller venues like the Violet Crown and Alamo Drafthouse Ritz probably won't be worth trying, but larger theaters like the Paramount will most likely work out just fine (even single-ticket buyers can probably get into the Paramount, but more about that later).
If you're taking the wristband route this year, read on for a few facts, tips and observations that will hopefully help you get the most out of being a wristbandito (that's a term coined by Jette last year that deserves another go, I think).
Start with the basics
First, get to know this year's SXSW film venues to set some reasonable expectations. The Paramount holds 1,100 people so it's the best bet for non-badgeholders, the Vimeo theater at the Convention Center seats 645 so that could be another smart option, and the Topfer Theater at ZACH seats a respectable 420 (last year this one always seemed to have plenty of space).
The location also plays a big role, and often SXSW satellite venues end up being a wristbander's best friend. This year Alamo Slaughter, Alamo Village and for the first time the Marchesa will be screening films all week (full film schedule here). Each offers the easiest (free!) parking of all the venues, and the distance from the hubbub of downtown makes them destination venues that often attract fewer badgeholders. Take a look at all the venue details as you plan your schedule and watch for Jette's full venue guide in the next day or two for even more info.
Free movies for everyone
Each year the official SXSW film program includes a few screenings free and open to the public. This year's SXSW Community Screenings feature short film presentations from Austin Film Society (here's more about the AFS ShortCase lineup from Mike), the City of Austin, Austin School of Film and the Austin-based nonprofit Rainforest Partnership. These events will be at the Marchesa during the first few days of the festival and one additional Community screening -- Austin School of Film's Youth M.A.F.I.A. screening -- will take place on Wednesday, March 12 at the Vimeo theater.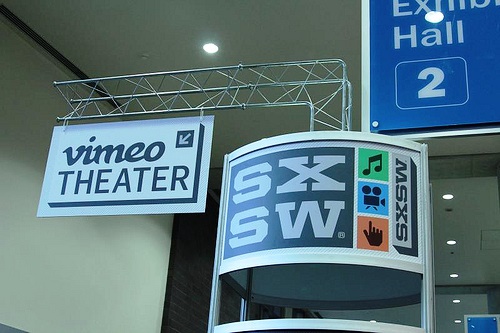 Tickets available now
If you aren't planning to buy a badge or a wristband but still want to see a film or two, advance single tickets are available for many movies showing at the Paramount for $12 each. Buying a ticket doesn't guarantee admission (single-ticket holders are the last to be let in after badge and wristband holders) but if the theater fills up and you don't get in (which festival planners think is unlikely to happen for these screenings), you'll get your money back.
Check the full list of the nearly 50 (!) screenings here; they include much-anticipated locally-tied titles like David Gordon Green's Joe, the Zellner brothers' Kumiko, The Treasure Hunter and a few to-be-determined Audience Award winners. Note to wristband holders: You'll have a good chance of getting into all of these films.
It's advised that single-ticket holders arrive at least 45 minutes early for these screenings, and for those who don't buy tickets online and decide to make a last-minute move, tickets will also be available the day of the show beginning about 15 minutes before showtime.
Tips and strategies for wristband holders
Much of the following may sound familiar if you've read any Slackerwood guides from previous years, but the combined knowledge of Jette, Don, Mike and the rest of the gang still applies.
No matter what, plan to arrive at the venue at least 30 minutes before the film starts.
Steer clear of smaller downtown venues, especially during the beginning of the festival. Instead, focus on satellite venues: The Marchesa seats 278, Alamo Slaughter seats 130 and the Village seats 115.
Downtown, the Paramount and the Convention Center are the most likely to lead to success, especially in the later days of the festival. Same goes for the Rollins Theater at the Long Center and the Topfer at the ZACH.
When you're out and about and deciding where to go next, use the Venue Status Boards to guide you. These are physical boards displayed at the Convention Center and other downtown venues, and you can also see them online at vsb.sxsw.com

or through the

SXSW Go App

. Essentially SXSW volunteers keep track of attendance levels at each screening and update the board accordingly (if there's plenty of space you'll see a green-means-go circle, yellow means there are just a few seats left so you better hurry, and red means sorry, you're not getting into this one.

Try to steer clear of the badge herd as much as possible, which means starting your day early and avoiding Midnighters, which tend to fill up quickly. Also, skip the first screening of an especially buzzy film and try to catch it later in the week when you're more likely to face a smaller crowd.
On that note, skip the big-name films altogether; they often draw large crowds and will be opening in Austin within a few weeks. Instead, use this opportunity to counter-program a more interesting schedule for yourself and take a chance on something more obscure.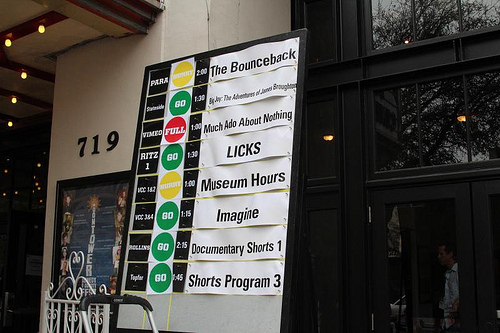 Parking (it's the worst)
Let's be real: Parking is a nightmare during SXSW and there's not much we can say to help any of you poor souls planning to drive downtown everyday. Interactive is bigger than Music this year so you can expect huge crowds throughout the festival all through the heart of downtown; this affects what little go-to parking advice many of us used to have.
If you're feeling lucky you can head into the fray and hope to find a spot in a paid lot or along the street in a metered space, and generally the earlier you arrive, the better.
In past years parking at the Long Center has been a decent decision for many (try not to tell too many people, yeah?) -- mostly during Interactive. It's not free but is relatively reasonable and not many Interactive attendees seem to use that area. Once Music starts, though, the Auditorium Shores region becomes a complete clustercuss that's best to avoid.
Other transportation tactics
Clearly it's advisable to avoid too much downtown driving. Bike if that's your thing, park farther away and walk, use public transportation, or attempt some combination of the three.
If you're considering your Capital Metro options, take a look at their maps and trip planning tool to see what works for you. Fares for regular buses are $1 per ride and $1.50 per ride for the new Metro Rapid service (the 801). The Park and Ride option might be reasonable for many (for example, if you live near North Loop you can park at the Triangle and then take the 801 -- which runs approximately every 15 minutes -- downtown pretty easily).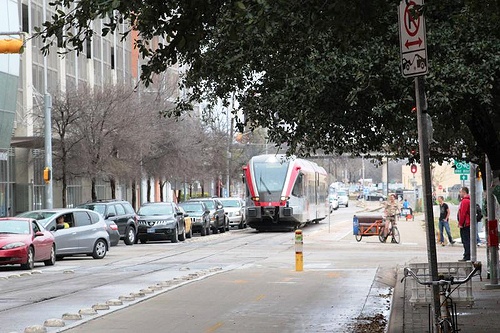 The Metro Rail is another theoretical possibility, but in many of our experiences the train can be prohibitively full during festival time and parking isn't available at every stop (Crestview, for example). Fares are $2.75 each way.
In some good news, though, Cap Metro will once again extend transportation hours during SXSW in order to help accommodate the thousands of extra bodies going to and from downtown. Find all the details here. Also making things a little easier (hopefully): This year riders can plan their trips and buy tickets using smartphones via the CapMetro App.
As far as getting from one part of downtown to another, using car2go, grabbing a bike at one of the 40 new downtown Austin B-Cycle stations, and hailing a sponsored Chevy you see driving around (they're free for badge and wristband holders) are the best options. The SXSW Film Shuttles are only available to badgeholders (sorry, wristbanditos).
All the rest
Because Austin is such a crazily dynamic place, it's a good idea, even for locals, to brush up on the dining options near SXSW venues as the week gets going. The Austin Food Blogger Alliance City Guide is a good place to start. SouthBites, a collection of food trailers located at Red River and Cesar Chavez, will once again be operating this year, as well.
Nothing beats Twitter when it comes to the real-time gushing, complaining and news sharing that film festivals elicit from us all. (Don't forget to follow @slackerwood and be sure to tweet at us with any helpful/fun updates.)
As a rule, prepare yourself for disappointment and always have a backup plan. Even badgeholders are shut out of screenings sometimes, so it's a good idea to be realistic and know what you'll do if your first choice doesn't work out. It happens, move on, do it again.
Of course, you will hopefully and almost certainly have some incredible moments, too. Nothing is better than when they cut the line off right after you've made it inside or when you accidentally end up seeing a fantastic film you knew nothing about before.
Do you have any tips for locals that you're willing to share? Let us know, and we'll see you out there in a few days!
[Photo credit: All photos by J. Kernion.]