Movies This Week: March 7-13, 2014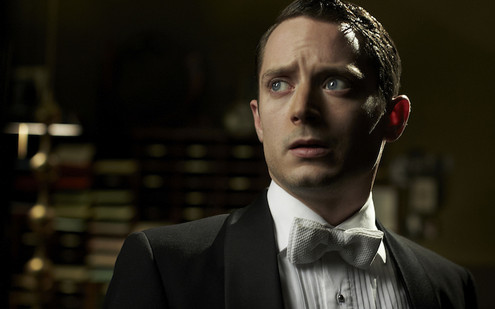 Specialty screenings are pretty much off the radar for the next two weekends because the SXSW Film Festival is taking over many of Austin's best venues. If you aren't headed out to the festival, there are still a few free community screenings that are part of SXSW. Most of them are taking place at the Marchesa, including the AFS ShortCase on Saturday afternoon. Programmed by the Austin Film Society, ShortCase is a program of short films created by AFS members and curated by a jury that includes filmmaker Clay Liford, Slackerwood's own Debbie Cerda and Lars Nilsen from AFS.
Aside from that, if you didn't pick up a SXSW badge or wristband, you'll very likely be able to buy your way into some of the encore screenings by the end of the week after the music portion of the festival gets started and the movies slow down a bit. Check out Caitlin's post for more tips on how to make the most of the festival as a local film fan.
It's also worth noting that Lars Von Trier's controversial film Nymphomaniac, Volume 1 has just been released as a pre-theatrical VOD title. Available from most cable operators, it's also available digitally to rent from Amazon Instant Video, the Playstation Store, Xbox Marketplace and YouTube. Due to its explicit sexual content, the film is not available from iTunes or Vudu. I've confirmed with Magnolia Pictures that the VOD version is exactly the same as what is being released theatrically and is not censored. For those who would rather take it all in (so to speak) on the big screen, it opens locally March 28 at the Alamo Drafthouse Slaughter Lane and Violet Crown Cinema. Volume 2 will follow in April.
Movies We've Seen
300: Rise of an Empire - Eight years ago, I came to Austin from Cincinnati for the first time to attend SXSW. I made the trip a few days early to hang out with some friends who had moved here and they took me the Alamo Drafthouse to see 300. I absolutely hated every second of the movie, but being able to watch it with a bucket of beer made the experience a bit more tolerable. My love affair with Austin began that very afternoon, and now, all these years later, it's entirely possible an out-of-towner will have a similar experience with this unnecessary sequel. Mike's got our review of the movie and he says it's a "slightly less terrible movie than the other recent trip to Greece, The Legend of Hercules." I'm afraid that's about as good of an endorsement as you can expect. (wide - available locally in 2D, 3D, D-Box Motion Seating and digital IMAX 3D screenings)
Grand Piano (pictured above) - Elijah Wood, John Cusack and Alex Winter star in this Hitchcockian thriller that was an Audience Award winner at Fantastic Fest last fall. Jette genuinely loved this movie when she reviewed it last fall, calling it "breathtakingly suspenseful." (Alamo Lakeline, also available on VOD)
Also Opening In Austin
Mr. Peabody & Sherman - Rob Minkoff, director of The Lion King and Stuart Little, updates the characters made famous on the Rocky & Bullwinkle television show in the 1960s and brings them to life in 3D animation. This project goes back over a decade, when it was originally conceived as a mixture of live-action and animation. Over time, it developed into its current state with voice work by Modern Family's Ty Burrell and Ariel Winter alongside comedians like Stephen Colbert, Lake Bell and Mel Brooks. (wide - available locally in 2D or 3D screenings)