Check Out the AFS ShortCase Lineup for SXSW 2014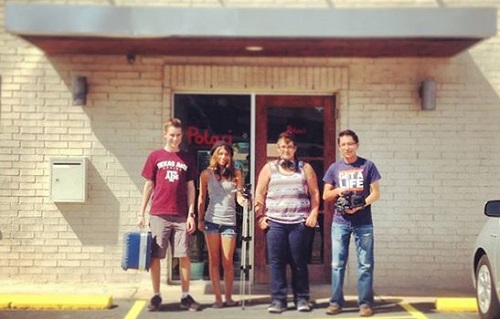 The Austin Film Society jury has chosen eight selections for the AFS ShortCase program, which annually presents to SXSW attendees a diverse mix of shorts created by AFS members. The 2014 jury included Austin filmmaker Clay Liford (Wuss), AFS programmer Lars Nilsen and Slackerwood contributor Debbie Cerda.
The ShortCase screening will take place during the first weekend of the fest, Saturday March 8 at 2 pm at the Marchesa. (Add the screening to your schedule here.) It's free and open to the public even if you don't have a SXSW badge or wristband -- but get there early, because last year this event filled up fast and a number of people were turned away.
The short features and documentaries include:
Digging for the Water (Joshua Riehl) -- In the hilltop village of Creve, Haiti residents have no electricity or running water. Their only supply, which they must carry by hand from a neighboring village, is contaminated with bacteria. Volunteers from the organization Mountain of Hope and The University of Texas at Austin arrange to help drill a well for the village.
The Horrible Life of Dr Ghoul (Don Swaynos) - A down-on-his-luck late-night tv horror host faces a comically uncomfortable situation with his estranged wife. The cast includes Chris Doubek, Kerri Lendo and Byron Brown. Kelly Williams (Hellion) is one of the producers.
Housekeeping (Catherine Licata) -- In this short drama, what at first appears to be almost a Stepford family is revealed to be a more complex and unhappy situation. A mother alone at home with her baby while the rest of the family is away spends an average day cleaning house. Writer/director Catherine Licata keeps the audience guessing with suggestions of an impending disaster, but as the story unfolds, the truth is surprising. Licata's actors communicate volumes in unspoken words as themes of loss and longing are revealed. Austin filmmaker Russell Bush (Vultures of Tibet) was the film's cinematographer.
Jenny and Steph (Elizabeth Chatelain) -- This short is a coming-of-age tale in which two sisters bond as they learn to trust one another through the events of a very bad night. Young Piper Byers in the role of Jenny displays uncommon depth and maturity in her performance. Chatelain also directed the documentary My Sister Sarah (Jordan's profile).
See the Dirt (Chelsea Hernandez, Erik Mauck) - Scott MacMillan is an ordinary Georgetown, TX teenager with an unusual habit. His collection of vacuum cleaners numbers in the hundreds, and after a newspaper article, local residents now bring their rare old vacuums to add to his collection. This short documentary from The Road to Livingston filmmakers screened at AFF 2012.
Stumped (Robin Berghaus) -- The inspirational story of Will Lautzenheiser, a filmmaker who lost his arms and legs to a group A strep infection. Forced to adapt, he maintains an unbelievably positive attitude and shifts to a career of comedy. In this documentary, Will completely opens himself to the camera as he puts together his new life.
Whitewash (Shasparay Lighteard) (pictured at top) -- Whitewash, a film created under the Polari Queer Youth Media Project, is a powerful affirmative statement on the importance of remaining true to oneself when pressured to conform to the expectations of others. Lighteard narrates her story in a humorous, well-written short whose quality exceeds those of many adult filmmakers. If this is any indicator, the future of filmmaking is in good hands.
The Yellow Wallpaper (Nidhi Reddy) -- This short is based on the early feminist short story by Charlotte Perkins Gilman about a woman confined by her husband to her upstairs bedroom as she loses her sanity, obsessing on the color of the wallpaper. Reddy has a brilliantly original animation style, and The Yellow Wallpaper was 2013 Grand Prize Winner at the Texas Union Film Festival, University of Texas at Austin. Reddy received an AFS Grant recipient in 2013 for her film Untitled Freakshow Animation.
[Photo credits: Whitewash still courtesy of Evan Roberts, Dr. Ghoul still courtesy of Don Swaynos.]