SXSW Film Announces 2014 Features Lineup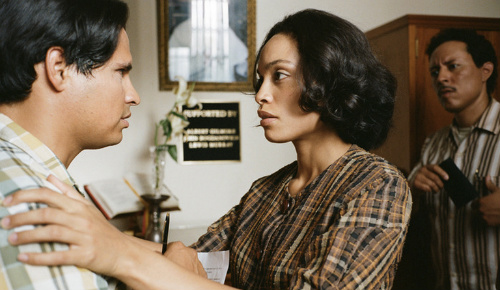 The feature film lineup for the SXSW 2014 Film Festival, held March 7-15, was announced today. This year's film festival and conference will include some new aspects -- an "Episodic" series made up of upcoming TV projects and SxSports -- but will keep focus on features (and shorts, although that lineup is released next week).
Some of the standouts I noticed in this year's programming: Now-Austinite David Gordon Green's Joe, the North American premiere of Diego Luna's Cesar Chavez (trailer), Beyond Clueless (a celebration of the teen movie genre narrated by Fairuza Balk), the American premiere of Alejandro Jodorowsky's autobiographical The Dance of Reality, and as previously announced, the world premiere of the Veronica Mars movie (from Austin's own Rob Thomas).
Neil DeGrasse Tyson's Cosmos: A Spacetime Odyssey, the pilot of Robert Rodriguez's From Dusk Till Dawn: The Series (see trailer below), and Mike Judge's new venture Silicon Valley are among the selections in the Episodic programming.
The slate for Festival Favorites includes movies with local connections that impressed at Sundance: Richard Linklater's epic project Boyhood [Debbie's review], Kat Candler's full-length feature Hellion [Debbie's review], Kumiko, The Treasure Hunter [Debbie's review] from the Zellner Brothers, No No: A Dockumentary by Austin's Jeffrey Radice, and Michael Tully's Ping Pong Summer.
SXSW will also host a special 40th anniversary screening of The Texas Chain Saw Massacre. No word yet on whether anyone associated with the film will be there.
Next month, we'll post more about the film festival programming with Austin or Texas connections. In the meantime, here's more info from the SXSW press release:
Once again, the festival's main competition categories are comprised of eight Narrative Feature world premieres and eight Documentary Feature world premieres, vying for their respective Grand Jury Prizes. The SXSW Film Awards show will take place on Tuesday, March 11 at 8pm at the Paramount Theatre, and hosted by comedian Jerrod Carmichel. Announced at the show will be the Feature Film Jury Award winners, Short Film Jury Award winners, Design Award winners, and Special Award winners. In addition to juried awards, all feature categories, with the exception of Headliners and Special Events, will be eligible for category specific Audience Awards. Audience Award winners will be announced via http://sxsw.com on Saturday, March 15.

The Narrative Feature Competition includes: 10,000KM, directed by Carlos Marques Marcet, Animals, directed by Collin Schiffli, Before I Disappear, directed by Shawn Christensen, Fort Tilden, directed by Sarah-Violet Bliss & Charles Rogers, The Heart Machine, directed by Zachary Wigon, I Believe in Unicorns, directed by Leah Meyerhoff, The Mend, directed by John Magary and Wild Canaries, directed by Lawrence Michael Levine. The Documentary Feature Competition includes: Beginning With The End, directed by David Marshall, Born to Fly, directed by Catherine Gund, The Great Invisible, directed by Margaret Brown, The Immortalists, directed by Jason Sussberg & David Alvarado, Impossible Light, directed by Jeremy Ambers, Mateo, directed by Aaron I. Naar, Print the Legend, directed by Luis Lopez & Clay Tweel and Vessel, directed by Diana Whitten.

An additional selection of highlights include the worldwide debut of Nicholas Stoller's Neighbors, Michael & Peter Spierig's Predestination, Diego Luna's CESAR CHAVEZ, Neil Berkeley's Harmontown, Liz Tuccillo's Take Care, Elijah Drenner's That Guy Dick Miller, Jack Plotnick's Space Station 76, Florian Habicht's Sheffield: Sex City, Nacho Vigolondo's Open Windows, Angus MacQueen & Guillermo Galdos's The Legend of Shorty, Alejandro Jodorowsky's The Dance of Reality, Darius Clark Monroe's Evolution of a Criminal, Jason Bateman's Bad Words, Mike Myers' Supermensch, David Gordon Green's Joe, John Ridley's JIMI: All Is By My Side and a special screening of 1954's Godzilla: The Japanese Original, with a Q&A following with 2014 Godzilla director Gareth Edwards. They join previously announced films such as Opening Night film Chef, as well as narrative features Veronica Mars, Break Point, and Creep, and documentaries Doc of the Dead, Leave the World Behind, and the Episodic Special Event COSMOS: A SpaceTime Odyssey.
You can see the full list here.
[Still from Cesar Chavez via Facebook]