Sundance Review: Boyhood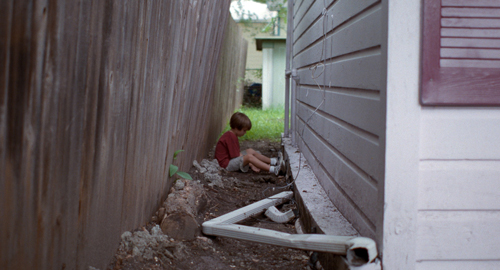 Austin filmmaker Richard Linklater finally unveiled his long-awaited epic drama Boyhood at the 2014 Sundance Film Festival, with a capacity crowd at both the premiere and press screening. Written and directed by Linklater and featuring Ellar Coltrane as the central character Mason, the movie is an opus of 164 minutes portraying the growth and influences on one boy. Mason -- along with his assertive older sister Samantha (Lorelei Linklater) -- faces the challenges of the dysfunctional family structure comprising the fiercely maternal Olivia (Patricia Arquette), who is desperate to provide a father to her children in lieu of an absentee father, Mason Sr. (Ethan Hawke).
Boyhood follows the family for 12 years, from 2002 to 2013, with seamless transitions between periods noted by aging of the main and supporting characters as well as by cultural references, music and wardrobes. From the introductory moment of Mason and Samantha engaged in a typical sibling interaction, viewers are engaged by the natural charm of these youngsters. As their father is "off in Alaska," Olivia must meet her children's needs while trying to fulfill her own desires for companionship and better herself through a college education.
Through her college experiences, Olivia meets and marries her graduate psychology professor Bill (Marco Perella), and later fellow student Jim, portrayed by Dallas actor Brad Hawkins. Unfortunately the marriages are destroyed by alcoholism, with both men serving as poor father figures and role models to Mason. As he grows into a teen, Mason becomes more independent and less idealistic as he seeks his own path.
Filming for Boyhood began between Before Sunrise and Before Sunset, with the majority of the cast including Hawke and Arquette committed for the duration. The casting of Boyhood is stellar, with both Hawke and Arquette well suited as the divorced parents. Coltrane is fascinating to watch as he ages into a young man, and Lorelei Linklater has a spunkiness and natural talent captured throughout the years that I'd like to see more of as she matures into a young woman. Familiar faces in supporting and cameo roles include San Antonio actor Richard Andrew Jones as well as Austinites Chris Doubek and Charlie Sexton.
Directing young children on a set can be daunting in a single production, but to do so over a period of 12 years presents additional challenges. However, Linklater has proven himself quite capable of that aspect of directing in one of my all-time favorite family films, School of Rock, and effortlessly does so again in Boyhood. A pivotal moment at the dinner table is so well done and realistic that the audience reacted in unison.
Even with the knowledge that Boyhood was filmed in just 39 days, it's impossible to tell that this film was shot over a long period. Much of that credit goes to Austinite Sandra Adair (Before trilogy, School of Rock) for her editing and to local cinematographer and longtime Linklater cohort Lee Daniel, as well as cinematographer Shane Kelly (A Scanner Darkly).
Some viewers may be put off by the length of this film, but Boyhood is such a well-crafted journey of storytelling that I didn't realize how much time had actually passed until leaving the theater. I strongly recommend seeing Boyhood in a theater when it's available.