Movies This Week: November 27 - December 5, 2013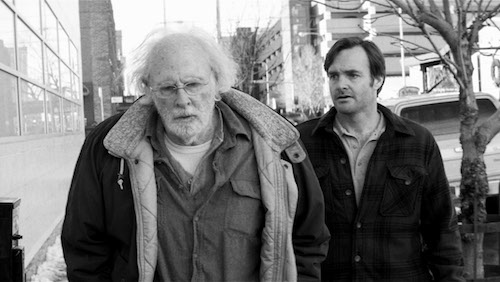 The Austin Film Society is taking a few days off for the holidays, but will return this weekend with a special series called "Jan Nemec: Rediscovered Treasures of the Czechoslovak New Wave." 2005's Toyen screens on Sunday night (December 1) while Diamonds Of The Night and A Loaf Of Bread play next Monday and Wednesday. All three titles are screening in rare 35mm prints. Meanwhile, the latest AFS Essential Cinema series on Irish cinema (our preview) screens 1995's Nothing Personal next Thursday.
The Paramount is kicking off its annual Holiday Film Series with Elf on Sunday and a double feature of It's A Wonderful Life and A Christmas Story next Wednesday. All films are screening in 35mm and there will be a few more titles in the weeks ahead. Check out Elizabeth's chat about the series with Paramount programmer Stephen Jannise.
The Alamo Drafthouse begins a new film series focused on journalism this Sunday and Tuesday with Citizen Kane at Slaughter Lane and Lakeline and Almost Famous on Tuesday at the Village. The Ritz has 35mm screenings scheduled for Labyrinth (free, Alamo Kid's Club this Saturday), Ladies And Gentleman, The Fabulous Stains (on Monday night) and Zodiac (next Wednesday).
As we approach Thanksgiving, there's a hell of a lot of turnover in area theaters. Seven major releases start playing today and we've seen almost all of them. If you already got your Catching Fire on or are looking to dig a little deeper at the movies, read below to see what our critics have to say.
Movies We've Seen
Black Nativity -- After the wild success of The Best Man Holiday, Fox Searchlight is probably pretty happy to have this Christmas-themed musical from Kasi Lemmons in their back pocket. With an all-star cast that includes Forest Whitaker, Angela Bassett, Jennifer Hudson and Mary J. Blige, Elizabeth's review calls the film enjoyable, even though the story is "as ridiculous as it is predictable." (wide)
The Book Thief -- This adaptation of the bestselling Holocaust-era young adult novel is destined to be a love-it-or-hate-it kind of film. I never read the book, but thought the film was genuinely touching, albeit a little on the slow side. Don's got our review, and he didn't care for much of anything aside from the performances. He felt the film "tries to overcome its lack of real emotion with forced sentimentality." One thing's for sure, this weekend's push to over 1,200 screens means that it may have a relatively short theatrical life. (wide)
Frozen -- Mike says "Frozen may be Disney's best animated film in 20 years. The adaptation of Hans Christian Anderson's 'The Snow Queen' is a return to Disney classic form with a few new twists on old tropes." Check out his review on Thursday morning, just in time for your post-Thanksgiving-dinner movie plans. (wide)
Nebraska (pictured at top) -- This black-and-white drama from Alexander Payne has earned Bruce Dern some of the best reviews of his career. Caitlin reviewed the film when it played during Austin Film Festival last month and said that it "meanders across the plains and valleys of family relationships, nostalgia and regret to reveal moments of sad beauty and awkward humor." While it only opens at one theater this weekend, look for the movie to expand to more locations in early December. (Regal Arbor)
Philomena -- Dame Judi Dench and Steve Coogan star in this award-winning film that Don's review calls "a drama with infuriatingly serious themes, but often a damn funny one." (Regal Arbor, Violet Crown Cinema)
Also Opening In Austin
Homefront -- Sylvester Stallone wrote the screenplay for this film years ago as a vehicle for himself, but it's finally been brought to the big screen with a bizarre cast that includes Jason Statham, James Franco and Winona Ryder. (wide)
Oldboy -- Spike Lee is behind the camera for this remake of the beloved Korean revenge thriller. I've seen quite a few reviews now that say people who have never seen the original should really enjoy it, but fans (not surprisingly) will likely be infuriated. Recent interviews have indicated that Lee did not have final cut on the film and his original 3-hour version of the film was edited down by the studio to just 104 minutes. (Cinemark Tinseltown, Regal Gateway)