AFS Preview: Troubles and Paradise: The 'First Wave' of Irish Cinema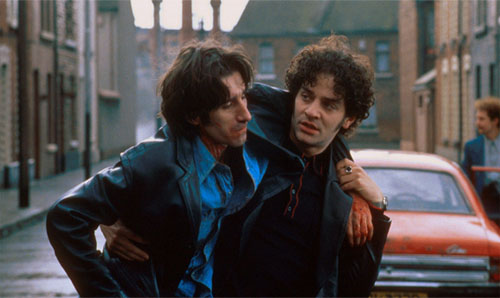 By Philip Fagan
The latest Austin Film Society Essential Cinema series, "Troubles and Paradise: The 'First Wave' of Irish Cinema," starts Thursday, Nov. 21 and runs through Dec. 19 at AFS at the Marchesa. Fagan is guest curator of this series.
It may at first glance seem curious to refer to films produced between 1982 and 2004 as among those comprising an Irish "First Wave" of cinema. However, as with the island's tempestuous political and social landscape throughout the years, the Irish cinema, to the extent that it has existed, has suffered a long and curious journey that is bound up with the same issues of Irish identity that continue to divide the Republicans and Loyalists of the North. The cinema of Ireland that began emerging in the 1980s can be assessed as part of a long, ongoing intellectual mission of examining and forging a cohesive national identity, a battle that continues to be waged on various other fronts.
Irish identity continues to be inherently fractured and debatable and the Irish themselves often tend to self-identify through the lens of well-worn stereotypes, or "Paddywhackery." Is Ireland one country or two? Are its peoples Irish or British? Catholic or Protestant? Or Christian or Pagan even? Is Ireland's "closest cousin" Great Britain or the United States? Has "Irishness" become so closely tied to America on one hand and the struggle against England on the other that maintaining an indigenous Irish identity has become impossible? Are the Irish at heart a race of saints, scholars, poets, and geniuses; or are they inherently uncivilized, atavistic, violent, racist, intolerant alcoholic criminals? And more recently, how are the changing roles of women and the rise of immigrant and gay subcultures impacting a conceptualization of a modern Ireland?
Defining an "Irish cinema" is no less problematic. Due to the diaspora of widespread emigration that began with the great potato famine, and a lack of indigenous film production due to both President DeValera's conservative nationalist policies in the Republic (1921-1973) and the explosive "Troubles" in the North, most of the cinema addressing distinctly Irish themes has been filtered through the lenses of Hollywood, England, and, to a lesser degree, Australia.
Emerging to a large degree from the theater work of Jim Sheridan in Dublin and the Derry-based artistic and intellectual collective known as Field Day in the 1970s -- a group of talent that included Gabriel Byrne, Seamus Deane, Brian Friel, Luke Gibbons, Seamus Heaney, Niel Jordan, Liam Neeson, and co-founder Stephen Rea -- the first indigenous cinema movement in Ireland's history slowly developed. Aided by the new government-funded Irish Film Board, filmmakers in both the Republic and the North were soon able to turn a sharp, revisionist eye on traditional Irish themes, including the schizophrenia of national identity, the diaspora, and the "Troubles" fueled by colonial oppression and the radical Republican movements in Belfast and Derry.
The films that came out of this first wave also addressed more contemporary concerns that were heretofore taboo: Women's rights and role in society, "queer" Ireland, the abuses of the Catholic Church, medieval agrarian Ireland contrasted with contemporary urban "Celtic Tiger" Ireland, tradition versus modernity, etc.
This Essential Cinema series presents a selection of contemporary Irish films, most of which I saw when I lived as a film student in Ireland in 2002 and 2005. The collection demonstrates that the brilliant crossover hits of Neil Jordan and Jim Sheridan grew out of an indigenous national cinema that was forged in Ireland beginning in the 1980s which took a Latin American-style "Third Cinema" as its model. Rather than being aimed at international arthouse audiences, such films were often state-funded and were produced with only Irish audiences in mind, addressing distinctly Irish themes, social issues, and national concerns. As a result, too little truly authentic "Irish cinema" has been seen in American cinemas or released on home video formats.
The five films in this series will hopefully play a minor role in correcting this deficiency. Like the great cinemas of other nations, Irish films are beautifully shot, wonderfully acted, and their stories are imbued with universal themes of love, war, passion, loss, and a unique sense of time and place. As the Irish have widely been considered the best writers within the English language tradition and have provided some of our greatest screen actors, film lovers would be remiss in overlooking the inherent mastery of cinematic storytelling by the Irish on their own terms.
– Philip Fagan, Guest Curator
Nov. 21: December Bride (1991)
This elegant work provides a view of Ireland seldom seen in cinema, a portrait of an almost medieval agrarian society with its Loyalist citizens dressed up on occasion in the bowler hats of modern London and living out their own ancient English colonial dreams, sequestered away on the island and unaware that their world is quickly vanishing in England proper. Against this backdrop, the three rebel protagonists form an unconventional family unit unwelcomed by the conservative church-centered community that values anti-Catholic drum marches and staunch British propriety above all else.
Dec. 5: Nothing Personal (1995)
The second film in the series by overlooked Irish auteur Thaddeus O'Sullivan (December Bride), as well as the only entry to explicitly address the sectarian violence of "The Troubles" in Northern Ireland, Nothing Personal created its share of controversy when it was released in Ireland in 1995. Whereas Neil Jordan's Angel only obliquely references the "Murder gangs" of the Loyalist and Republic movements of the 1970s, O'Sullivan's film is unrelenting in its approach to the subject, imbued with a visceral, take-no-prisoners style that mirrors the brutal "missions" of the murder gangs themselves and also vividly evokes the physical world of Belfast in the 1970s.
Dec. 12: The Last Bus Home (1997), If I Should Fall from Grace: The Shane MacGowan Story (2001)
Seemingly the only two people in Dublin not greeting the Pope on the day of his historic visit in 1978, two young punks forge an alliance, fall in love and start a band. Taking the creation myths of Irish punk pioneers like the Pogues, Stiff Little Fingers, and U2 as its impetus, director Johnny Grogan's The Last Bus Home examines the power and glory of the early Irish punk scene, its commercial commodification, and its ultimate transformation and inherent unsustainability. The film is also a testament to the close ties between Irish punk music and the country's indigenous folk traditions and history, and the ongoing struggle for Irish nationalism and identity.
If I Should Fall from Grace is a candid portrait and artistic overview of Ireland's "punk poet laureate" that traces the singer-songwriter's life from his childhood in Ireland, through his teenage years in London, and onto his explosion on the punk music scene fronting the Pogues and beyond. On a deeper level, the documentary examines distinctly Irish themes of the Diaspora and displacement, anti-Irish racism, "the Troubles," Irish Nationalism, alcoholism, and the Faustian price paid for artistic genius. Did I mention that it has some of the finest songs ever written? At once heart-breaking and inspiring, the film suggests that MacGowan has yet to fall from grace.
Dec 19: Angel (1982)
When not working on more mainstream Hollywood and American independent films, director Neil Jordan has forged a cinematic career deconstructing, subverting and often "queering" traditional notions of Ireland and Irishness to great acclaim. In his debut (produced by John Boorman and also the first feature funded by the Irish Film Board to promote the country's national cinema), Jordan crafts an atmospheric film noir centered around a moody performance by legendary Irish actor Stephen Rea, who portrays a Northern Ireland musician increasingly drawn into a mysterious and violent underworld after witnessing two murders.
Philip Fagan is a filmmaker and an associate adjunct professor in the radio-TV-film department at Austin Community College.