Holiday Films at the Paramount: C'mon and Let it Snow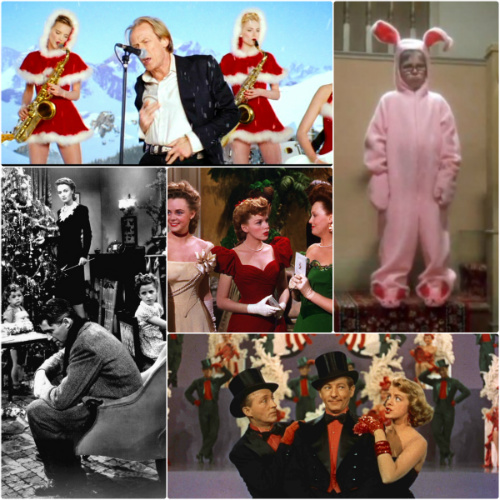 Now that it's Thanksgiving week, it's time to get to watching holiday movies! Here to help, the Paramount Theatre is showing a variety of films during the month of December. As you watch these older and more recent Christmas classics, you can imbibe the free hot chocolate provided (discounted "extra toasty" beverages will also be available).
For something different this year, the downtown Austin landmark will be running a special deal for marriage proposals on Sunday, December 8. In between the Love Actually showtimes that day, the marquee will read "Will you marry me?" and couples can reserve times to pop the question in front of the theatre.
I asked Paramount programmer Stephen Jannise how this idea was conceived and whether this is the first time something like this has been done at the historic venue. His response:
"One of my coworkers actually came up with the proposal idea after I had already programmed Love Actually. Apparently we get tons of calls from people wanting to use the marquee to propose, and of course we just can't accommodate all those requests (a majority of the time we're using that marquee to promote our shows). So we figured we'd take a whole day to give people an opportunity to get photos with the marquee, along with all the other awesome benefits of that package. And what better movie to pair that experience with than Love Actually! To my knowledge, this has never been done at the Paramount."
Here's the schedule for seasonal movies at the theatre:
Weds, Dec. 4
It's A Wonderful Life, 7:00 pm [tickets]
A Christmas Story, 9:35 pm [tickets]
Jannise says, "I wanted to pair Wonderful Life with Christmas Story because, to me, those are the two films we most associate with watching tv at home with family. I wanted to encourage everyone to come out for one night and remember what's it like to see those films on the big screen without all the best buy commercials." Double feature reminder -- a ticket for It's a Wonderful Life means you can stay for A Christmas Story.
Sun, Dec. 8
Love Actually, 2:00 pm [tickets] and 6:00 pm [tickets]
You don't have to propose to anyone to attend one of these screenings, if you were wondering. Jannise: "Love Actually is having its 10th anniversary this year, and it's one of those films that, at least in my memory, was not as well received as hoped for upon initial release. But in the ten years since, it has grown to become a Christmas tradition as much as any other holiday film."
Sun, Dec. 15
White Christmas, 7:00 pm [tickets]
Meet Me in St. Louis, 9:25 pm [tickets]
Mon, Dec. 16
Meet Me in St. Louis, 7:00 pm [tickets]
White Christmas, 9:20 pm [tickets]
A Danny Kaye-Judy Garland musical double feature? Count me in. Jannise: "White Christmas is a great annual tradition at the Paramount, and I thought Meet Me in St. Louis would make a fun pairing. I can't think of two better, cozier films to watch while drinking hot chocolate!"
Related: A few of these have been included in our annual Holiday Favorites series. Debbie wrote about White Christmas, I wrote about Meet Me in St. Louis, and former Slackerwood writer Jenn covered Love Actually.