Review: Black Nativity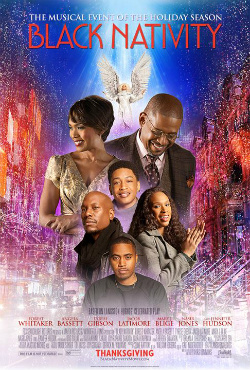 Kasi Lemmons, director of Eve's Bayou and Talk to Me, chose a play by poet Langston Hughes as the basis for her new movie. Black Nativity is first and foremost a musical, featuring original pieces of music as well as new arrangements of familiar hymns and carols. Lemmons even co-wrote some of the songs, with Raphael Saadiq producing the music (he shares the "Music by" credit with composer Laura Karpman).
The music is the best thing about Black Nativity. Without the songs it would likely be a far more disappointing movie, as you can see plot lines coming from a mile away. There are a couple times when a character says something that punches you in the gut with its earnestness, but otherwise the story is as ridiculous as it is predictable.
Langston, a fatherless kid from Baltimore played by young Jacob Latimore, is sent to live with grandparents he's never met. His rhyming narration kicks off the movie, and his singing voice has a light tone. Singer/Oscar-winning actress Jennifer Hudson plays his financially-strapped mom who sings more often than she talks. Angela Bassett and Forest Whitaker are the grandparents living in Harlem (and both of them sing in the movie!). Bassett's tentative alto harmonizes nicely with Hudson's more assured voice for a duet in "He Loves Me Still."
Tyrese Gibson (Baby Boy, Transformers) shows up as a gritty man Langston meets in NYC, and his performance of "Sweet Little Jesus Boy" late in the film is simply beautiful. A homeless couple -- obvious Joseph and Mary stand-ins as soon as they appear onscreen -- are played by R&B singer Luke James and newcomer Grace Gibson. Mary J. Blige is an angelic figure with startlingly white hair, and Nas is... himself, I guess?
There are times when Black Nativity resembles a long-form music video rather than a movie, especially since the story is so flimsy. But, geez, it's a Christmas musical with Mary J. Blige singing "Rise Up Shepherd and Follow" as an angel on scaffolding! That alone is worth the ticket price. Despite the messy, this-is-bananas quality of the film, my friend and I both enjoyed it and sat through all the credits. I even heard a couple others in attendance at the press screening singing along with "As" at the end, so I joined in.