Sundance Review: Pit Stop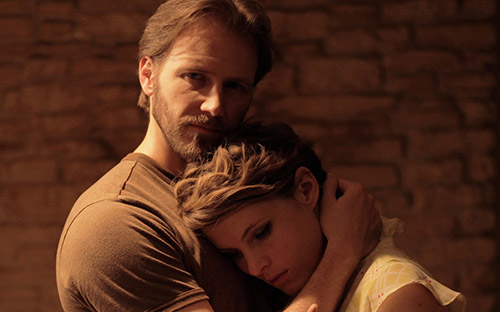 Director Yen Tan made his first appearance at the Sundance Film Festival this year with the drama Pit Stop, cowritten by Dallas filmmaker David Lowery. Inspired by stops along the Texas highways while traveling for a film project, Tan has woven parallel tales of two gay men dissatisfied with their current romantic relationships in a rural town. Tan received grants from both the Texas Filmmakers Production Fund and the Vilcek Foundation for the making of Pit Stop, which will also screen at SXSW Film Festival this March.
Construction worker Gabe (Bill Heck) can't quite accept the end of his affair with a married man and relies on the support of his ex-wife Shannon (Amy Seimetz), who is also trying to move on with her love life. Meanwhile, across town Ernesto (Marcus DeAnda) avoids his younger ex-lover Luis (Alfredo Maduro) -- who currently still lives with him -- by escaping to the bedside of a ex-boyfriend whose health is failing. There he spends his time reading aloud gossip magazines and reminiscing about their life together.
Pit Stop is a character-driven drama that portrays the frustration felt by these blue-collar workers who crave romance and love -- a desire that many people can identify with regardless of gender or sexual orientation. The slow pace of this film allows the audience to contemplate the experiences of the film's characters. The set and production design is minimal, with the narrative relying more on well-framed shots with dark backgrounds to draw attention to the dialogue between characters.
Heck and DeAnda are both convincing in their roles, as is supporting cast Seimetz and Maduro. I also found John Merriman as Shannon's co-worker and love interest to be quite endearing and entertaining. Like Gabe and Ernesto, Winston also yearns for a simple romance.
America's Parking Lot composer Curtis Heath and sound designer Eric Friend worked together on Pit Stop as well for a subtle score and often quiet atmosphere. Editing by local filmmaker Don Swaynos contributes to the leisurely pace that aids viewers in absorbing the characters' emotions.
Pit Stop is an understated and thought-provoking film that is worth watching. This film provides an intriguing glimpse of love and romance in the small towns that so many of us drive through without a second thought on the lives of its inhabitants.
Austin/Texas connections: Pit Stop interiors were filmed in Austin. Lead actor Marcus DeAnda was raised in Presidio, Texas, and graduated from The University of Texas at Austin's radio-TV-film and broadcast journalism programs. Producer Kelly Williams, editor Don Swaynos and cast members Richard C. Jones, John Merriman, Heather Kafka, Bailey Bass and Jonny Mars all live in Austin. Co-writer David Lowery, director of photography HutcH, and producers Eric Steele (Wuss, Ain't Them Bodies Saints) and James Johnston (Pioneer, Ain't Them Bodies Saints) live in Dallas, and Amy Seimetz is also a native Texan.