Review: The Horse Boy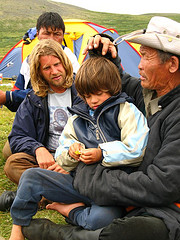 Since I've not personally known anyone with autism, it's not an issue I could relate to until seeing Michel O. Scott's The Horse Boy, which is currently playing at Arbor Great Hills. You may also remember it under its working title, Over the Hills and Far Away. This film, which was partially funded by the Texas Filmmakers' Production Fund, was nominated in 2009 for a Grand Jury prize at the Sundance Film Festival and received the Audience Award at the South by Southwest Film Festival. The compelling documentary portrays the challenges of dealing with a young child stricken with autism, and chronicles the family's attempt to improve their quality of life by exploring non-traditional healing in Mongolia.
Having met abroad in India, Rupert Isaacson and his wife Kristen Neff found themselves unable to travel effortlessly to the store after their son Rowan was diagnosed at 2 1/2 years of age with autism. At the time The Horse Boy was filmed, 5-year-old Rowan was prone to autistic tantrums that could last for over four hours, and was incapable of using the toilet. It is surprising then that the family would endeavor to travel across the world to Mongolia, meeting with shamans and then ascending 12,000 feet near the Russian border to visit the shamam of the reindeer herders.
I was amazed by the unflinching optimism of the parents through such a laborous journey, but considering Isaacson's role as producer of the Horse Boy (with book option), it's understandable there's a reduction in objectivity. However, filmmaker Michel O. Scott successfully interlaces scenes from the family's "routine" life in Elgin, Texas and their expedition across Mongolia by van and horse with experts who offer insight into autism.
Some frustration and depression are depicted, and Isaacson does remind himself to throw out "adult agendas." At times when I had to wonder, "Is it too much to put a child through?" the parents are asking the same thing. I found myself wanting the healing miracle for this loving family.
The Horse Boy is a testament to small miracles in life that many people take for granted -- the ability for a child to name an animal, to play with other children, to laugh with a stranger. Was it the shamans and the healing rituals that brought some peace to this family? As Isaacson states, "What matters is we came here and he's leapt forward." Rowan still lives with autism, but the profoundly unsociable behavior and tantrums are gone.
Austin Connections: The Horse Boy is local cinematographer Michel O. Scott's feature-film directorial debut. Editor Rita K. Sanders is also based in Austin. She has edited video extensively for many non-profit groups in Austin including The Austin Browncoats, Grrl Action, and the Governor's Committee on People with Disabilities.
The family that is the subject of this documentary resides near Austin, and Rowan's mother Kristen Neff is a psychology professor at The University of Texas at Austin.
Notable Austin Locations: Sone scenes were filmed at Austin Zoo and Animal Sanctuary and in Elgin, Texas.
[Photo credit: Rupert Isaacson, Rowan and Ghoste in Mongolia by Justin Hennard, courtesy of Zeitgeist Films]