Movies This Week: July 5-11, 2013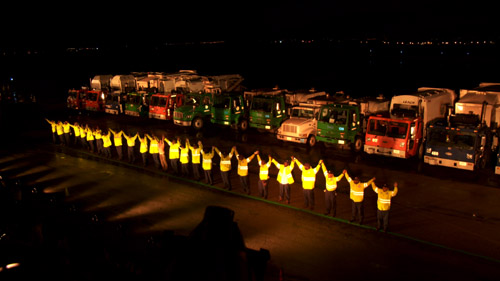 If you've had enough fireworks and barbecue and outdoor holiday fun, perhaps you'd like to spend some time in a nice air-conditioned movie theater. You've got all kinds of choices, luckily.
This is an excellent week to catch Austin movies. On Saturday afternoon, Austin Film Festival hosts a special screening of family-friendly Holes, which local author Louis Sachar adapted from his novel, at the Texas Spirit Theater in the Texas State History Museum. Trash Dance (Don's review), the delightful doc about the choreographed Austin Waste Services project (pictured above), screens at Alamo Ritz on Tuesday night. And AFF teams up Wednesday night with the Texas Film Commission to screen the locally made film Holy Hell (AFF 2009 review) at the Texas Spirit Theater, as part of the Made in Texas series.
The Paramount and Stateside movie calendar is full this week. One of my all-time favorite movies screens Tuesday at the Paramount: the 1940 film Ball of Fire, starring Barbara Stanwyck -- directed by Howard Hawks and written by Charles Brackett and Billy Wilder. I can't recommend it enough. It's on a double-bill with the 1932 Marx Brothers movie Horse Feathers. And the lovely and amazing Wings of Desire, a film I adore, screens next Friday nighs, a double-feature with Bicycle Thieves. (Originally I had written that it screens on Thursday night too, but it has been pre-empted by a preview of The Conjuring. Imagine my reaction.)
Austin Film Society has a treasure-trove of programming this week. In a circus mood? The French comedy Yoyo screens Sunday at the Marchesa as part of the Traveling Circus series. Want Marilyn Monroe? Catch Bus Stop Tuesday night at Alamo Village. Or you might enjoy the 2012 documentary Bert Stern: Original Mad Man on Wednesday night at the Marchesa. And Thursday night, AFS brings the indie drama About Sunny to Austin as part of its Best of the Fests series.
The usual melange of kids' movies are playing on weekdays at various theaters, but I noticed one standout: Coraline, at Regal Arbor at 10 am Tuesday and Wednesday for a mere dollar admission.
If you prefer watching your movies outdoors, Cinema East is screening the Austin-shot movie Zero Charisma (my review) Sunday night at the French Legation Museum, preceded by local filmmaker Clay Liford's short film Slash (which I still haven't seen, damn it). And Saturday night, you can cool off at Deep Eddy pool while watching Grease. Or you can turn up the heat at Blue Starlite on Saturday with a double-feature of the Kill Bill movies. Blue Starlite is also screening Savage Steve Holland's raucous 80s comedy One Crazy Summer on Wednesday night.
Oh, yes! Some new movies opened in theaters this week, too. Let's see what we've got.
Movies We've Seen
20 Feet from Stardom -- New Slackerwood contributor Matt Shiverdecker caught this documentary about backup singers at SXSW earlier this year and says it's an "endlessly charming and fun doc that tells a story that you can't believe hasn't been told before." (Arbor, Violet Crown)
Despicable Me 2 -- The sequel to the animated film about evil-ish mastermind Gru, his minions, and three cute orphans might sound harmless. But Elizabeth notes in her review, "the film throws a smidge of racial/ethnic stereotype (plus a tiny dash of misogyny!) into the mix." (wide)
The Lone Ranger -- Johnny Depp stars as Tonto, the sidekick to the title character (played by Armie Hammer), in this movie from Gore Verbinski, who's worked with Depp on Rango and the Pirates of the Caribbean movies. In his review, Mike says "in spite of several weaknesses -- including a runtime of 149 minutes -- I found much to enjoy" like the cinematography and supporting cast. (wide)
Other Movies Opening in Austin
Unfinished Song -- Terence Stamp and Vanessa Redgrave star in this drama about a community choir of older singers. Read Marjorie Baumgarten's review in the Austin Chronicle for details. (Arbor)