AFF Review: Holy Hell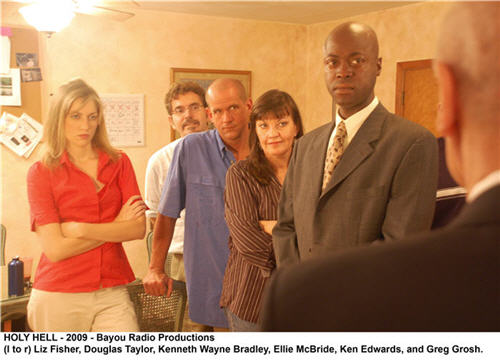 What happens when a financially strapped Church can't afford to continue? They make a horror movie, of course. At least, that's the premise of Holy Hell, a well-named Austin film by Rafael Antonio Ruiz and co-writer L.B. Bartholomee.
Reverend Lane (Ken Edwards) as a humble man who lives the Bible, instead of forcing it down other's throats. But his flock is dwindling, and his church doesn't have the money to keep the doors open. The decision to make a film stirs up more controversy than they'd ever expect, especially as word gets out it's a horror film. Suddenly they find themselves at odds with a superchurch, which sends an army of protesters to shut them down.
The opening sequence of Holy Hell is nothing short of brilliant, as Ruiz and Bartholomee contrasts examples of those who screech the good word with someone who quietly lives it. Edwards' Lane is a quiet man of God and the antithesis of the superchurch power mongers who thrive on fear and funding.
Lane's eccentric and all-too-human flock want to keep their church open. They aren't professional filmmakers, and they're all flawed, some deeper than others. They bicker, and argue and don't all get along, even within their families. Yet they're all dedicated to the project and keeping their little church, even when they're under siege by the superchurch's well organized protesters. The most unlikely pair to write the script are a crusty Vietnam veteran nurse, and a reformed gangster with aspirations to fame.
There are several memorable scenes with the beleagured flock. One particularly great scene is a battle of scripture between Claudia (Ellie McBride), the rock of the flock, and the sulfur-tongued leader of the protesters. There's also a heartbreaking scene were Lane manages to avoid one rhetorical ambush only to be trapped in another.
Despite his earnestness, Lane can't seem to catch a break, and no one seems willing to even try to understand what the Peachtree Church is trying to do. Crises of faith hit everyone, leading up to a conclusion that anyone who considers themselves devout should see. Holy Hell makes me want to see Forgiving the Franklins again, a SXSW sleeper finally out on DVD that also makes the distinction between presenting oneself as Christian and actually living in harmony with Christ's values.
Filmed with an obvious micro-budget, Holy Hell makes that work, both in the overall story and in the film production within the film. This isn't a glossy story, it's about substance. Some films use the minimal production budget, and Holy Hell is one of them.
Holy Hell may be a small film, but like the little flock, has enough spirit to teach the big films a thing or too.
Austin connections: Filmed entirely in Austin with many recognizable character actors. From the credits, it seems like the Austin theater community was actively involved. The soundtrack includes Mariachi Estrella and Mr. Sparkle.
Austin locations: Mercury Hall, Riverbend Church, Jorge Restaurant, Wok N' Roll, Off Center, Blue Theater, Brazos & 10th, and various private locations around the Capital Plaza as well as north and east Austin.