Review: Despicable Me 2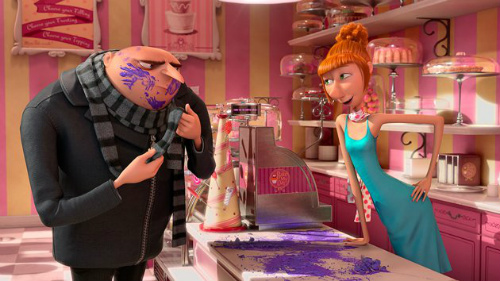 In the 2010 animated comedy Despicable Me, villain Gru (Steve Carell) adopts three girls and learns how to be a father. They become a family, including his cute yellow minions and the elder Dr. Nefario (Russell Brand).
But this wasn't enough. Despicable Me 2 has neighborhood moms trying to match Gru up with their friends, a frazzled Gru running a birthday party on his own, and motherless daughter Agnes preparing a monotonal speech for a Mother's Day program at her school. It seems Gru needs a woman and these girls need a mom, because God forbid a man should raise his children alone.
Maybe I'm reading too much into this animated sequel, but along with the abovementioned gendered thinking, the film throws a smidge of racial/ethnic stereotype (plus a tiny dash of misogyny!) into the mix. Gru suspects that the Latino man who owns a shop in the mall is a former baddie, El Macho (which, honestly, is a great villain's name). This imposing figure, Eduardo (Benjamin Bratt), speaks with a thick accent, owns a restaurant called Salsa y Salsa and wears a tattoo of the Mexican flag on his chest. Eduardo asks Gru and his spunky Anti-Villain League partner, Lucy (Kristen Wiig), in the midst of their investigation into a missing serum, to bake treats for his Cinco de Mayo party. After their cover is blown, Gru and the girls attend the party, with little Agnes even wearing a too-big-for-her sombrero and poncho.
As for the movie's misogyny, I was actually slightly disgusted to see Gru and Lucy transport a drugged woman tied to the top of their car. True, Lucy is the one who shoots her with the dart, but the audience is supposed to laugh (and most of the audience at our screening certainly did) as this unconscious woman's head is slammed between doors and her body is slumped on her front porch. Oh, and I can't forget that the film makes use of the damsel-in-distress trope. I didn't expect it, because Lucy is a pretty kick-ass gal otherwise, but this film goes there.
Nevertheless, if you can disregard these cultural issues, Despicable Me 2 is fairly chuckle-worthy at times. Minions singing their own version of a sappy 1990s pop hit (in appropriate outfits) had me laughing so hard I almost fell out of my seat. The children watching the movie probably won't get this joke; I even had to explain it to my father, who attended the screening with me, after the movie. Pharrell Williams' music, using some of his themes from the first film, is just as great here.
A couple of my friends in their twenties attended an earlier preview screening and loved this sequel; indeed, they hope to see it again. My dad also enjoyed it. I was likely bothered because I believe kids receive messages from the films they watch, and I'm not sure the message here is very clearly stated. Perhaps you can take your kids and talk to them afterwards about any questions they might have. Like, why can't Gru raise the girls on his own? What makes a family? What did you think about how the tranquilized woman was treated by other characters in the film? Is violence against women funny?