Cine Las Americas Day 5: Different Kinds of Family Film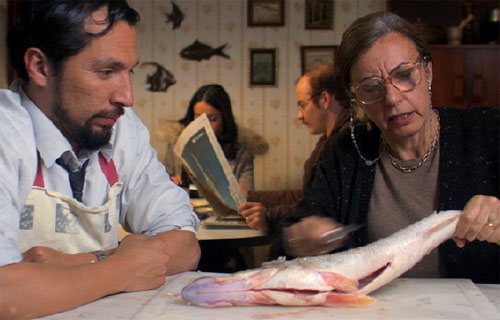 Normally when the word "family" is used to describe a film, it's used to describe a target audience that includes small audiences. At Cine Las Americas, it means the story focuses on a family, often with mature themes.
Two of the strongest films in the narrative feature lineup include Postales de Leningrado (Postcards from Leningrad) (dir. Mariana Rondon, Venezuela) and Cinco dias sin Nora (Nora's Will) (dir. Mariana Chenillo, Mexico), both of which are family themed, but which deal with family matters quite differently.
Postales de Leningrado is a whimsical interpretation of the darker consequences of living in interesting times, particularly 1960s Latin America and the era of rebels versus regimes. Instead of focusing on lovers, friends, or enemies, writer/director Rondon's story is told by a young girl and focuses on her cousin and her parents. The film could easily be a chaotic melange of first person, third person, animation and still images both past and present. However, the narration helps makes it an endearing tale that manages not to break your heart while telling heartbreaking stories.
Not that Rondon shies away from violence; an early sequence of a laughing family chasing a pig around the yard suddenly results in a butchering, and the camera doesn't avoid the carcass. It sets the audience up for further shocks but softens the blow with context.
Mariana Chenillo's feature debut, Cinco dias sin Nora, had its North American debut to a very appreciative audience on Saturday night. The story is simple: Jose's life gets interrupted just before Passover when his ex-wife, who lives in the next building, passes away. Forced by circumstance to stay in her apartment, the resentful Jose finds that Nora has planned everything, down to the food to prepare for the seder.
Over the course of five days, people come and go, with comical passive aggressive manipulations regarding what should and shouldn't be done with Nora. From the uptight, orthodox son to the deeply Catholic cook who raised him to a variety of rabbis, everyone has an opinion, including a Shomer with a secret passion. The sulking, atheist Jose, played to crotchety perfection by Fernando Lujan, is also trying to find evidence of an affair after spotting a picture with another man in it.
Chenillo, who flew in from Mexico City just for this screening, said the story is loosely based on her family, and her grandmother's suicide. While not directly autobiographical, it's close enough to her own family's story that she was nervous about showing it to her grandfather, who grudgingly approved in true curmudgeon style.
Neither film has U.S. distribution at this time. Cinco días sin Nora is set for limited release in Mexico. Postales de Leningrado is still doing the festival circuit, although it does have distribution in France.
Among the documentaries, family dramas are also featured, in particular focusing on the harsh laws and policies associated with women and immigration. Three such documentaries have connections to central Texas.
Slackerwood has previously reviewed The Least of These, and it's not the only documentary in the fest with local connections to Austin.
Exiled in America is Angela Torres Camarena's short film about the consequences of a 1996 change in federal law that took away judges' discretion on deportation when legal immigrants are charged with crimes. Camarena focuses on a Texas family split apart when the mother, a legal permanent resident, is pulled over and found to have undocumented immigrants in her car.
Mi vida dentro (My Life Inside), a documentary feature by Lucía Gaja, calls attention to the discriminatory practices of the U.S. law enforcement and legal system. The film focuses on a 2003 case in Austin against Rosa, an illegal immigrant charged in the death of a child in her care. What appears to be a case of accidental death is quickly assumed to be murder, and it's clear Rosa has little chance of a fair trail, or even a fair sentence.
Unfortunately, Gaja gets distracted and throws in a nonsensical music montage, and includes sequences about another case that's not well integrated into Rosa's story. It's also hard to read subtitles and the descriptions of the interview subjects at the same time. A 10-minute section of the movie lacks English subtitles, so it's impossible to be sure how well Gaja worked in the story of immigrants in Texas. Overall, the film needs significant editing.
Postales de Leningrado, Cinco días sin Nora and The Least of These have encore screenings this week. Check the Cine Las Americas website for more information.