Watch 'The Least of These' Online, Free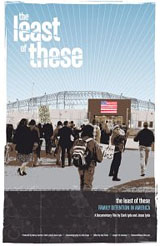 The documentary The Least of These had its world premiere at SXSW in March. This film is about the Hutto Residential Center in Taylor, Texas, where undocumented immigrant families are detained -- sometimes for months -- before the government decides whether they can enter the country or must be deported. In 2006, when the center opened, many critics thought it looked like a jail and the families have complained that they were treated like prison inmates. Lawyers and activists stepped in to try to make changes, if not close the center outright.
This is a compelling film that I'd really recommend watching. You can read Jenn Brown's drive-by review too. Fortunately, you don't have to wait for the next film festival or wonder when The Least of These will get a distribution deal. SnagFilms, a website where you can view full-length documentaries for free, premiered the film online right after its first screening at SXSW. This means that all you have to do to watch The Least of These is to go to the bottom of this article (after the jump) and click.
If you don't like watching films online, the website for The Least of These hints that the film will play again in Austin at Cine Las Americas at the end of the month. Cine Las Americas hasn't yet published its schedule, but we'll keep you posted.