SXSW Day 6: Drive-By Reviews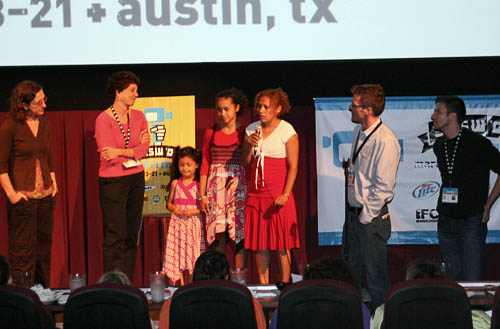 I've commented on the sense of community I see at SXSW, and today proved it. I caught up with some friends I've made at Austin fests like SXSW and Fantastic Fest, and made some new ones, including a relatively random one who gave me a ride home after my last film, not to mention getting into datapop party, which was very fun.
The Least of These (Lone Star States)
Directors: Jesse Lyda, Clark Lyda
I knew very little about the T. Don Hutto family detention center in Taylor, Texas in Williamson County, but now that I do, I'm quite disturbed that it even exists. The privatization of the penal system bled into illegal alien detention, including children who's only crime is having parents who wanted better lives for their children. The cavalier corporate attitude towards detention is challenged by civil rights activists and media outlets alike. This deserves a much longer review, which we'll do later. In the meantime, it's playing again at 11 am on Friday at the Paramount, so if you're in town, go see it.
45365 (Feature Competition)
Turner Ross, Bill Ross, Bill Ross IV
Cinema verite style documentary on a middle American town. Winner of the Grand Jury Award for documentary feature, it runs long. Still, it's interesting to see how little small-town America has changed since I lived in a small town.
Motherland (Emerging Visions)
Director: Jennifer Steinman
The promotional team for Motherland was smart, using tissues as a marketing tool. This documentary focuses on six grieving mothers, and a unique trip to South Africa. It's a simple story, very moving, and may change your perspective on the grieving process and the power of community. Motherland won the Audience Award for the Emerging Visions category. Steinman is also the production partner of Mine's Geralyn Pezanoski (winner of the Documentary Feature Audience Award).
[Photo credit: Jette Kernion, from Q&A of The Least of These.]